Winter Storm & Semester Wrap-up
12/10/2017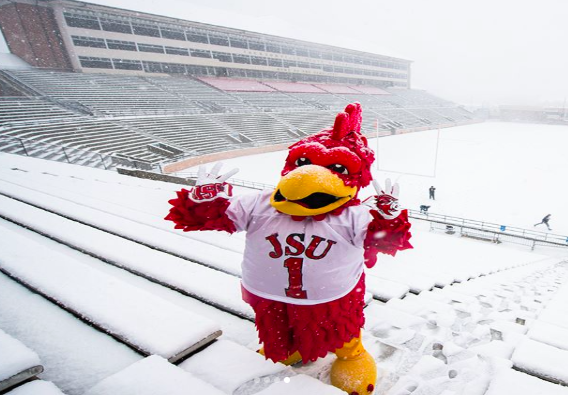 Jacksonville State was dumped with a foot of snow on the last day of final exams on Friday, Dec. 8. Thankfully, campus didn't sustain any damage from the storm but every area of campus must now be flexible to bring the fall 2017 semester to an end. Please read the special instructions and FAQs below and have a great winter break!
FINAL EXAMS: Final exams that did not take place on Friday have been rescheduled for Monday, at the same times and locations they were originally set on Friday. If you are a student with serious scheduling conflicts - such as flights out of town - please contact your professor immediately to make alternate arrangements. Professors, please check your emails and voicemails and make reasonable accommodations for students unable to take a makeup exam on Monday. Grades are still due on Tuesday so that graduation certification can be completed for commencement.
GRADES: Grades will be posted as scheduled. Professors must submit final grades on Tuesday so that graduation certification can take place. 
GRADUATION: Commencement will take place as scheduled on Friday, Dec. 15. Graduating seniors who were unable to pick up their cap and gown preorders on Friday may do so on Monday, Dec. 11. 
BOOKSTORE: The campus bookstore will be open on Monday, Dec. 11, 7:15 a.m. to 6 p.m. The deadline to turn in textbook rentals has be extended to Monday, Dec. 11. Rentals can also be mailed back without penalty if postmarked Dec. 11. The remainder of the week, the Bookstore will be open 8 a.m. to 4:30 p.m. Graduating seniors may pick up their cap and gown any day, including Friday. 
LIBRARY: The Houston Cole Library will be open Monday-Friday, 7:30 a.m. to 4:30 p.m., this week. The deadline to turn in books and materials is Wednesday, Dec. 13, 4:30 p.m.
HOUSING: Non-graduating residents in Crow, Curtiss, Daugette, Dixon, Fitzpatrick, Logan and Patterson will be able to stay in their assignments until Tuesday, December 12, 12 p.m. Anyone with conflicts should contact their Residence Life Coordinator for assistance. Residents in Meehan, Sparkman, or any on-campus apartment are allowed to remain in their assignments throughout the winter break. Graduating residents will be able to stay until Friday, December 15, 10 p.m. 
DINING: Dining facilities are now closed for winter break. Thank you to all the staff in Sodexo, including Chef Jeff Hornsby, for working throughout the winter storm to keep students fed.