Dr. Ben Hardy's Dream of Endowing a Scholarship Comes to Fruition
12/18/2017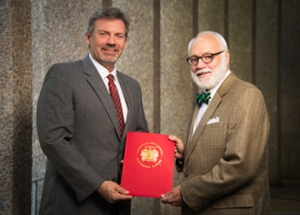 Bill Nash, Development Officer for the School of Business & Industry congratulates Dr. Ben Hardy on reaching his goal of endowing a scholarship for business students.
Dr. Ben Hardy has finally realized a personal goal 17 years in the making. After contributing to a scholarship fund monthly through payroll deductions and additional contributions since he started teaching at JSU in 2000, the Ben and Linda Hardy Business Endowed Scholarship is officially endowed.
"I wanted to give back to the School of Business and its students from the time I first arrived on campus," Dr. Hardy said. "In fact, it has always been a dream of mine to leave a permanent scholarship legacy. By utilizing the JSU continuous giving option, money has been deducted from my salary every month. Linda and I are now able to make a substantial impact on students forever."
Dr. Hardy's commitment stemmed from his desire to enable students – many of whom are the first generation in their families to attend a university -- in and around the northeast Alabama area to pursue higher education.
"Our scholarship will benefit deserving students enrolled in the School of Business and it will be awarded each year based on financial need and merit," he said.
Before coming to JSU's College of Business to teach Legal Studies in the Finance, Economics and Accounting Department, Dr. Hardy was a corporate labor lawyer at BellSouth Corporation and a law professor at the Cumberland School of Law in Birmingham. Linda Hardy is a retired art teacher from the Birmingham Public Schools. The couple are also avid JSU Softball fans, attending many games and supporting the program.
"Dr. Ben Hardy is an example of the prestigious and caring faculty that educate and motivate our students at the University every day," said Bill Nash, the Development Officer for the School of Business & Industry. "Many thanks for this generous scholarship contribution from this wonderful couple."