Tickets on Sale for Renaissance Madrigal Dinner
11/10/2017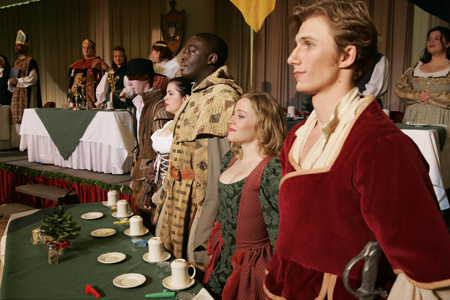 Hear ye, hear ye! JSU Choral Activities will host the annual Renaissance Madrigal Dinner on Dec. 1 and Dec. 2 at Leone Cole Auditorium. Enjoy a family friendly evening of music and drama featuring the JSU Chamber Singers and A Cappella Choir, with a guest appearance by the Weaver High School Choir. 
The evening will begin with a hearty round of wassail, followed by a multi-course feast, while members of the JSU Chamber Singers and A Cappella Choir enact a farcical drama. There will be singing, good and bad jokes, and high and low drama. This year's story is entitled "Mommy Knows Best: A Tale of Two Unlikely Lovers" and was written by Megan Day, Brady Drake, Kelsey Trussell, Branton Wheeler, David Wooten and Dr. Patricia Corbin. 
This event is great family entertainment, suitable for children and adults. Seat reservations are $28 for regular seating, $15 for children (ages 4-12) and $50 for preferred seating. All reservations must be received by the Choral Activities Office on Nov. 17 at 12 p.m. Seating is limited so please make reservations early. Seating will be assigned as the orders are received, so please make any group requests together at one time. Please be certain of your plans as seat reservations are non-refundable.
Download a registration form online or make reservations over the phone at 256-782-5544. We regret that no tickets or reservations will be available at the door. Come join us for a great evening! Wassail!