JSU to Honor Ledbetter at Women in Philanthropy Brunch
03/09/2018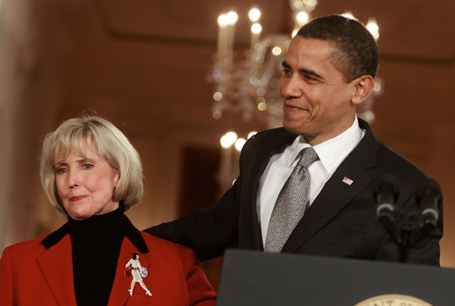 The Lilly Ledbetter Fair Pay Act was the first piece of legislation signed by President Obama.
American icon and Alabama native Lilly Ledbetter will be honored at The Club in Birmingham on April 25, 10 a.m., as part of the Women in Philanthropy Brunch presented by Jacksonville State. The event was originally scheduled for Dec. 8 but was cancelled due to a snowstorm. The public is invited to attend the event, where Ledbetter will give a keynote address and be presented an Excellence Award. 
Born in Jacksonville in 1938 the daughter of an Anniston Army Depot mechanic, Lilly McDaniel Ledbetter grew up picking cotton and milking cows on the family farm in Possum Trot. After graduating from Jacksonville High School in 1956, her strong work ethic served her well as she advanced from an associate at H&R Block to an office manager at an accounting firm and doctor's office. She even worked at JSU in the mid-1970s as assistant director of Financial Aid.
The mother of two was initially discouraged from working outside the home, but she enjoyed earning her own wages and supporting the family income. With her extra income, she was able to provide her children things they would otherwise go without – from cheerleading uniforms to college tuition. With the goal of sending her children, Vickie and Phillip, to college at JSU, she decided to apply for a manager's position at Goodyear in Gadsden.
In 1979, Ledbetter started her 19-year career at Goodyear. She trained in all the plant's various departments and divisions and her first supervisor assignment was to manage third shift stock prep in the radial division. Over the years, she endured injuries and sexual harassment with little complaint – believing her hard work would speak for itself. Then one day before work, she found an anonymous note dropped in her cubby that listed the salaries of three other managers in her area. She was bringing home thousands less per year than men doing the same job.
Ledbetter could have taken the easy route, dropped the issue and retired. Thinking of generations of women before her and those to follow – including her own granddaughter – she decided to take a stand. She sued Goodyear and a jury awarded her $3.8 million, which was later thrown out by the US Supreme Court based on the statue of limitations.
Supreme Court Justice Ruth Bader Ginsburg stated in her dissention to the ruling: "Lilly Ledbetter was a supervisor at Goodyear Tire and Rubber's plant in Gadsden, Alabama, from 1979 until her retirement in 1998. For most of those years, she worked as an area manager, a position largely occupied by men. Initially, Ledbetter's salary was in line with the salaries of men performing substantially similar work. Over time, however, her pay slipped in comparison to the pay of male area managers with equal or less seniority. By the end of 1997, Ledbetter was the only woman working as an area manager and the pay discrepancy between Ledbetter and her 15 male counterparts was stark: Ledbetter was paid $3,727 per month; the lowest paid male area manager received $4,286 per month, the highest paid, $5,236."
In 2009, Congress passed the Lilly Ledbetter Fair Pay Act, removing the statue of limitations on discrimination suits. The Supreme Court had overturned her discrimination suit with Goodyear, since Ledbetter hadn't filed within 180 days of receiving her first paycheck (despite whether she was aware of the discriminatory pay practices within those 180 days). The new act removed the statue of limitations. As his first official piece of legislation as president, Barack Obama signed the Lilly Ledbetter Fair Pay Act into law.
"When I set out on my Goodyear career in 1979, it wasn't part of my grand plan to someday have my name be on a Supreme Court case or an act of Congress," Ledbetter wrote in her autobiography, Grace and Grit. "I simply wanted to work hard and support my family. The rest, I believed, would take care of itself. Clearly, fate had other plans for this Alabama girl."
The Women in Philanthropy Brunch, open to both men and women, will become an annual event that honors the contributions of women like Ledbetter.
"Our goal is two-fold," said Paige Burton, JSU major gifts officer. "We want to start a tradition of honoring the great success of JSU women who have already come, while at the same time helping others to become great leaders in their community through the establishment of the Women of Philanthropy Scholarship."
Tickets are $50 and maybe be purchased online through April 18. Table sponsorships are available and may be presented in honor of a friend or loved one. All proceeds will support the establishment of a Women in Philanthropy scholarship at JSU. For more information, contact Paige Burton at 256-266-4005 or apburton@jsu.edu.