Faculty Spotlight: Jennifer Foster
11/10/2017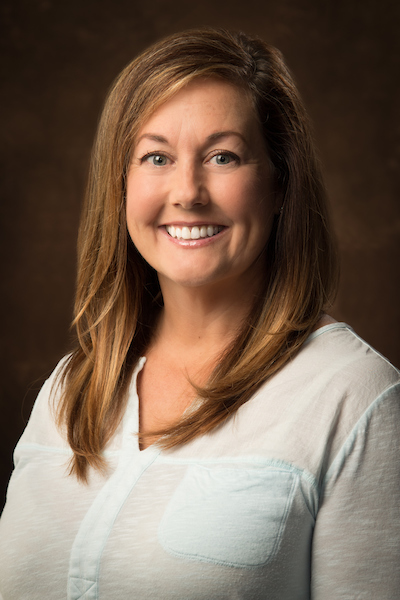 English Instructor Jennifer Ferrell Foster has been named the 2017 recipient of the Dr. George Mehaffy Excellence in Learning Technology Award in recognition of her integration of technology into all areas of her teaching.
Established in 2014, the award was designed to honor an outstanding faculty member who has contributed significantly to the enhancement of teaching and learning at Jacksonville State through the sustained and innovative use of technology.  
Foster began her career at JSU in 1996 after completing both the BA in English in 1994 and the MA in English in 1996. Although she has taught several different courses at JSU, she said her favorites are Developmental Writing and Bible as Literature. 
Throughout her career, Foster has helped develop online sections of several of the English courses required for freshman and sophomore students, including Developmental English, Oral Communication and American Literature. In fact, she was instrumental in the development of an e-thology of American literature which could be used by students to access the texts they needed for their EH 201 courses without cost to the student. Her face-to-face literature classes are collaborative experiences, allowing students to use technology to create content and to respond to literature. Lecture is limited in order to increase student engagement in the classroom.
When asked what advice she would give students about being successful in college, she said, "Every single day in English 100 I have a lesson on being successful. We talk about everything from using good manners to carefully choosing whom to date, to calling home, to looking teachers in the eye when talking to them. We discuss their "plan B" and what they can do to avoid enacting that. My mantra that many of them could probably repeat is this: 'Do the right thing, all the time, every time.' I know they think I'm ridiculously strict, but I really want them to consider not only honing their writing ability but also developing their character."
Not only does Foster share freely with her students, but she also models for them what it means to be a lifelong learner. After recently completing an MS in instructional technology, she is now pursuing a Master of Business Administration.   
Jennifer Ferrell Foster represents the best of teaching at JSU. We look forward to seeing how she continues to use technology in her classroom and make a difference in the lives of students.