JSU Drama to Open Curtain on 2017-2018 Season
10/01/2017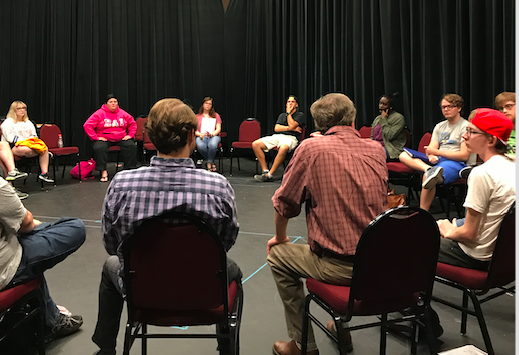 Students do a read-through for "An Enemy of the People."
Rehearsals are underway at the JSU Department of Drama, as theatre students and faculty prepare to open the 2017-2018 season at the Ernest Stone Center for the Performing Arts.
First up is Arthur Miller's powerful adaptation of Henrik Ibsen's "An Enemy of the People," on stage Oct. 27-30. As a small Norwegian town prepares to open its healing springs, a local doctor discovers deadly pollution in the waters. But will the townspeople listen to his warnings? This timely drama explores what happens when the truth collides with the will of the majority.
In November, JSU Drama hosts its annual Student Showcase with two evenings of one-act plays directed by students, as well as displays of student design work. Please come support and celebrate JSU's emerging theatre artists on Nov. 29-30.
The classic musical "Guys and Dolls" will light up the Stone Center stage in February. The "musical fable of Broadway" is inspired by the stories of Damon Runyon – with music and lyrics by Frank Loesser and book by Jo Swerling and Abe Burrows. It features the familiar hits "A Bushel and A Peck," "I've Never Been in Love Before," "Sit Down, You're Rocking the Boat" and "Luck Be a Lady." It will take the stage Feb. 23-March 4.
On March 29-30, JSU Drama presents a workshop production of the winner of the annual Southern Playwrights Competition, "Lillian Paula Carson" by John Barrow.
The season concludes with Lois Lowry's Newberry Award winning young adult novel "The Giver," in an adaptation by Eric Coble. Jonas lives in a utopian society in which each person is assigned a role in the community. When he is chosen for special training from The Giver - to receive and keep the memories of the community - Jonas will discover what it means to grow up, grow wise and take control of your own destiny. Mark your calendar for April 13-15.
Theatre guests can look forward to a new improved experience this year, as work crews are busy renovating the theatre lobby and lights. The new lobby will feature beautiful stone work, a flat screen television and expanded restroom facilities. A new state-of-the-art theatrical lighting system is also being installed.
If you are a returning patron, please note the show times have been changed. Evening performances will begin at 7:30 p.m. and afternoon matinees at 2:30 p.m. For more information or to purchase tickets, please call 256-782-5648 or visit www.jsu.edu/drama.