Dedication Planned for Marching Southerners Practice Field
10/16/2017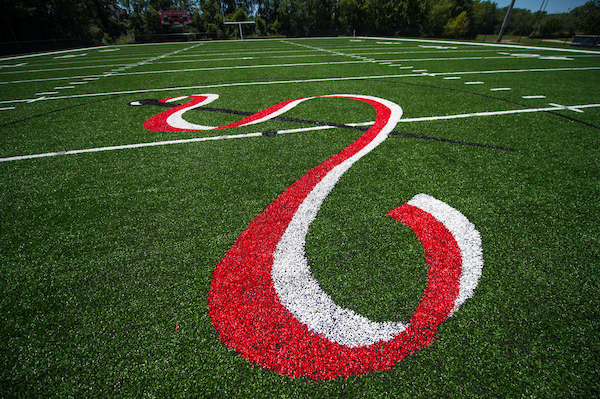 The new Marching Southerners practice field will be dedicated on Nov. 4 at 9 a.m. as part of the band's annual alumni reunion weekend. All JSU students, faculty, staff, alumni and friends are invited to attend the ceremony before the Gamecocks face off against Murray State at 1 p.m. on Burgess-Snow Field.
The university announced in August 2016 that the intramural field near Paul Carpenter Village would been renovated and designated the official practice space of the renowned marching band. Until this season, the band held practices on the hot, hard asphalt of the Pete Mathews Coliseum parking lot.
The new facility features a state-of-the-art rehearsal surface made of artificial turf, lights, restroom facilities, storage, and fencing. In addition to serving as home base for the 500-plus band, the facility will also be used by the numerous high school marching bands hosted by the JSU music department for band camps each summer.
"This is a 23-year dream of mine for the program that has finally come to fruition," said Dr. Ken Bodiford, Director of University Bands, when he learned about the new facility.
The field will be named in honor of the late Jim Bennett, who was chairman of the Board of Trustees, former Alabama Secretary of State, and a JSU alumnus who marched with the Southerners. The ceremony will include remarks from Bennett's son, Don Bennett, as well as Dr. Bodiford, President John Beehler and Chairman of the Board Ronnie Smith. The Marching Southerners will play the "Star Spangled Banner" and "Stars Fell on Alabama" and refreshments will be served.