Tropical Storm Warning Remains in Effect
09/11/2017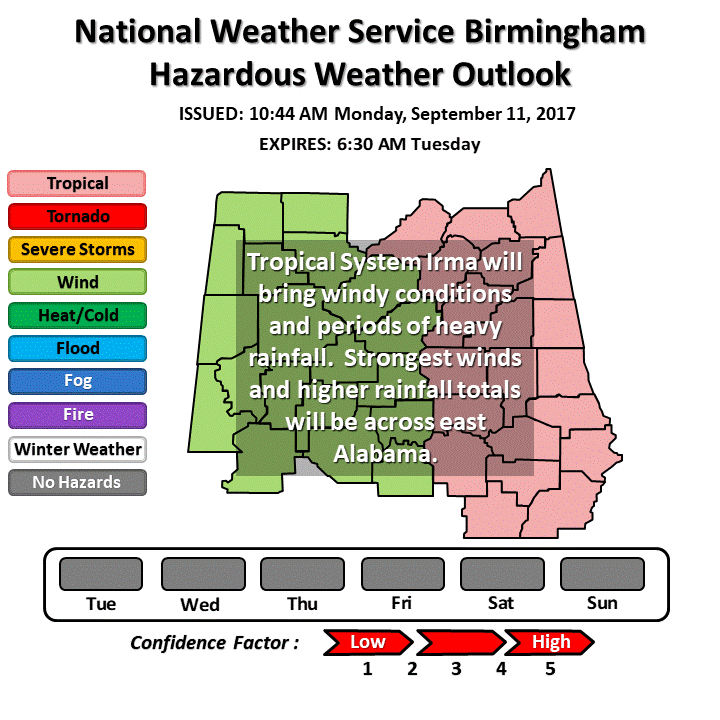 The National Hurricane Center released the following update on Tropical Storm Irma on Sept. 11 at 7:49 p.m.:
Tropical Storm Irma continues to move north northwestward from south central Georgia toward east Central Alabama. Large areas of light to moderate rainfall has spread north and west, covering all of Central Alabama. Strong winds have brought trees down across most counties in far east Central Alabama this afternoon, with measured wind gusts up to 40-45 mph. As Irma continues to move toward Central Alabama this evening, the pressure gradient will tighten across the area. Wind gusts up to 50-55 mph will be possible, especially in the higher elevations of east Central Alabama, through this evening.
Irma will gradually weaken, with the surface low filling and wind fields diminishing through the early morning hours Tuesday, as the center of Irma moves into north Alabama. Rainfall coverage will begin to end from south to north as dry air wraps around the west and south side of the system. The upper level low associated with Irma will remain over the Mid Mississippi River Valley through Wednesday, and will leave low rain chances in the forecast with lingering moisture across the area.
Learn more here.