Tropical Storm Irma Update
09/11/2017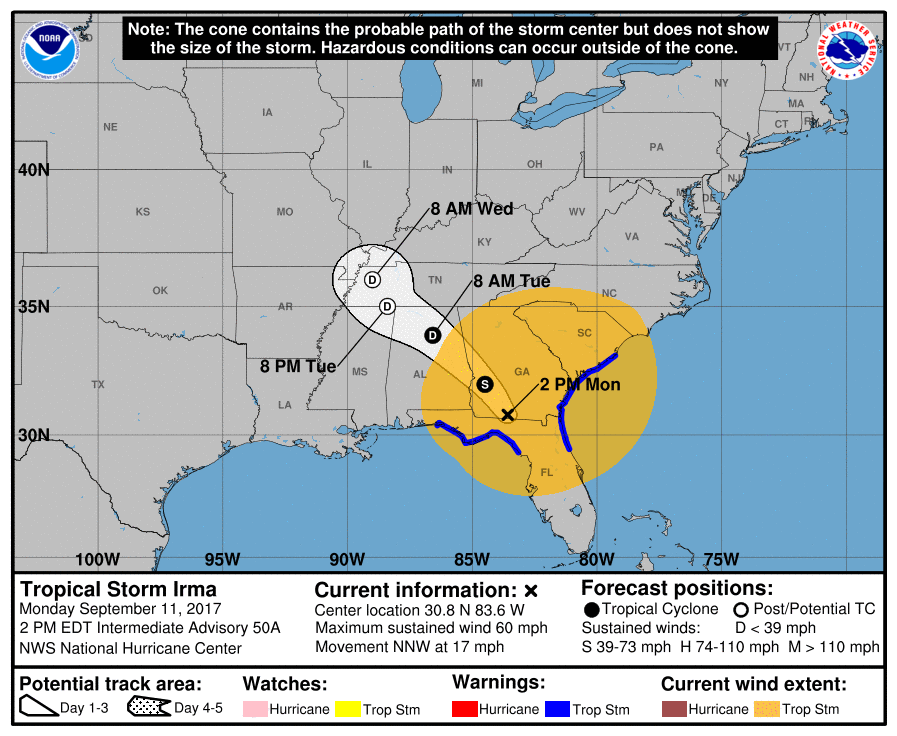 The National Weather Service has placed East Alabama under a Tropical Storm Warning. Calhoun County, home to Jacksonville State University, is within the path of the storm as well as the following counties: Barbour, Blount, Bullock, Chambers, Cherokee, Clay, Cleburne, Coosa, Elmore, Etowah, Lee, Macon, Montgomery, Pike, Randolph, Russell, St. Clair, Talladega, and Tallapoosa. 
Irma is expected to have noticeable impacts across the eastern half of Central Alabama through tonight. Conditions will worsen through the afternoon and evening as strong winds spread northward with gusts possibly reaching 55 mph. Scattered tree and power line damage is possible along with power outages. Some minor structural damage is also possible. Conditions will gradually improve on Tuesday as Irma continues to move northwestward into Western Tennessee. 
Potential Impacts: 
WIND: 
Some damage to roofing and siding materials, along with damage to porches, awnings, carports, and sheds. A few buildings experiencing window, door, and garage door failures. Mobile homes damaged, especially if unanchored. Unsecured lightweight 
objects become dangerous projectiles. 
Several large trees snapped or uprooted, but with greater numbers in places where trees are shallow rooted. Several fences and roadway signs blown over. 
Some roads impassable from large debris, and more within urban or heavily wooded places. A few bridges, causeways, and access 
routes impassable. 
Scattered power and communications outages, but more prevalent in areas with above ground lines. 
FLOODING RAIN: 
 
Rivers and tributaries may quickly become swollen with swifter currents and overspill their banks in a few places, especially 
in usually vulnerable spots. Small streams, creeks, canals and ditches overflow. 
Flood waters can enter some structures or weaken foundations. Several places may experience expanded areas of rapid inundation at underpasses, low-lying spots, and poor drainage. 
TORNADOES: 
Little to no impacts are anticipated at this time across Central Alabama. 
PREPAREDNESS INFORMATION: 
Outside preparations should be wrapped up immediately before weather conditions completely deteriorate. 
If relocating to a nearby shelter or to the home of a family member or friend, drive with extra caution, especially on secondary roads. Remember, many bridges and causeways will be closed once higher winds arrive. Also, if you encounter water covering the road, seek an alternate route. Always obey official road signs for closures and detours. 
Those going to shelters should do so immediately. Take essential items with you from your Emergency Supplies Kit. Check the latest weather forecast before departing. Failure to adequately shelter may result in serious injury or loss of life. Remember, during the storm 911 Emergency Services may not be able to immediately respond if conditions are unsafe. This should be a big factor in your decision making. 
Check-in with your emergency points of contact among family, friends, and workmates. Inform them of your status and well-being. Let them know how you intend to ride out the storm and when you plan to check-in again. 
Keep cell phones well charged and handy. Also, cell phone chargers for automobiles can be helpful after the storm. Locate your chargers and keep them with your cell phone. 
In emergencies it is best to remain calm. Stay informed and focused on the situation at hand. Exercise patience with those you encounter. Be a Good Samaritan and helpful to others. 
NEXT UPDATE: The National Weather Service will post its next local update around 5 p.m., or sooner if conditions warrant. Learn more here.