JSU Prepares for Hurricane Irma
09/10/2017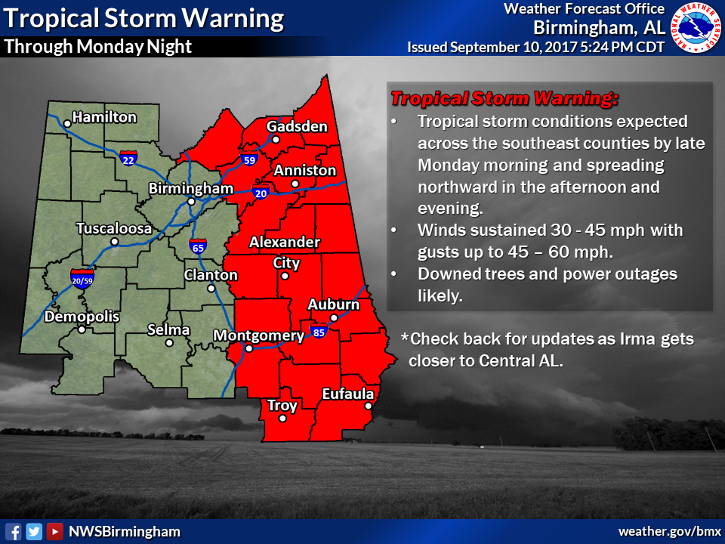 Jacksonville State University will be closed on Monday and Tuesday, Sept. 11-12, as East Alabama has been placed under a tropical storm warning.
Shelter:
All residence halls have basements, with the exception of Logan, Meehan and Daugette Halls (where students will shelter in first floor hallways, away from doors and windows). Front desks will be open from 12 p.m. to 12 a.m. on Monday-Tuesday, with staff on call 24/7 for residents. Leone Cole Auditorium and Salls Hall will be opened as shelters for campus apartment residents if tornado warnings are issued.
In the community, the following shelters will open for those needing refuge from the storm:
- Jacksonville Public Safety Complex (located behind Walmart) will open at 8 a.m.
- Oxford Civic Center will open at 8 a.m.
- White Plains VFD Saferoom will open at 1 p.m.
- Websters Chapel VFD Saferoom will open at 10 a.m.
- Ohatchee VFD Saferoom will open at 10 a.m.
- Carver Community Center will open at 9 a.m.
Transportation:
The Gamecock Express will not run Monday and Tuesday. Driving is not advised Monday morning through Tuesday due to flooding and downed trees and power lines. Check the local news for road conditions and closures before attempting to drive.
Food Options:
Jack Hopper Dining Hall (which has backup generators) will be open:
Monday, 11 a.m. to 2 p.m. and 4:30-7 p.m.
Tuesday, 7 a.m. to 7 p.m.
All other campus dining locations will be closed on Monday and Tuesday.
Supplies:
The JSU Bookstore will be open on Monday, 7:15 a.m. until 3 p.m. Snacks and small first aid and personal care items (toothpaste, medicines, etc) will be available for purchase, as well as boredom busters like adult coloring books for power outages.
Weather Outlook:

The remnants of Hurricane Irma will be moving through our area Monday afternoon through Tuesday. Calhoun County is currently under a Tropical Storm Warning. The potential impacts for our area are 30-45 MPH sustained winds with gusts of 45-60 MPH, downed trees and power outages are likely, and 3-5 inches of rainfall is possible.
In response to the event the Calhoun County Emergency Operations Center will activate at 10 a.m. on Monday and will continue to post updates as they come available. Remember that you can sign up for FREE emergency text alerts from the Calhoun County EMA by texting "Calhounema" to 888-777. Students are automatically enrolled in JSU Alerts but should check their settings in MyJSU under "Update Addresses and Phones." Family and friends of JSU students can sign up for JSU Alerts online. 
Contact: 
The University Police Department is always open 24/7 in Salls Hall. Call 256-782-5050 for assistance.