Jazz Greats to Perform on Sept. 14
09/06/2017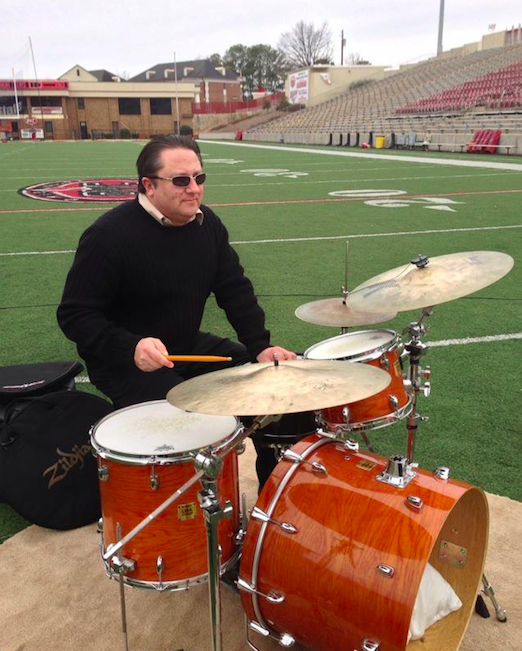 JSU's own Andy Nevala will be joined by peers from two other universities.
You don't have to go to New York or New Orleans to hear great jazz music. Three jazz greats will perform on campus on Sept. 14: JSU's own director of jazz studies, Andy Nevala, joined by his counterpart at the University of Alabama, Christopher Kozak, and Southeastern Louisiana University percussion professor Michael Brothers. The show will start at 7:30 p.m. in Mason Hall's performance center. Admission is free and open to the public. 
As director of jazz studies at JSU, Andy Nevala currently directs the Downbeat Award winning Jazz Ensemble I,  Jazz Ensemble III, Jazz Ensemble IV and Latin Ensemble and oversees the Jazz Combo program. He also produces the university's annual Jazz Festival, now in it seventh year, and teaches several private jazz students. 
Nevala has been recognized by Downbeat magazine on 10 different occasions, winning individual Downbeat Music Awards for composition (2002), arranging (2003), and performing/directing (2000, 2001, 2002, 2015). Professionally, he has performed and/or toured with the Glenn Miller Orchestra, Steve Lippia, guitarist Eddie Turner, the ProJazz Trio, Mazacote, Orquesta Borinquen, Conjunto Colores, Orkestra MaCuba, Nelson Rangell, Mart Avant and Nightflight, and numerous symphonies. He maintains an active performing schedule throughout the Southeast. 
Michael Brothers is lecturer of percussion and director of percussion studies at Southeastern Louisiana University in Hammond, LA, where he also co‐directs the Southeastern Jazz Ensemble and the Spirit of the Southland drum line. His nearly 40‐year career as a drummer and percussionist spans a wide range of musical experience including performances with big bands, symphony orchestras, recording sessions and on Broadway, including more than 6,600 performances of the record-breaking Music Box Company tour of the Broadway musical, "The Phantom of the Opera." 
Prior to his tenure at "Phantom," Brothers was the drummer or percussionist on several national tours including "City of Angels," "Bye Bye Birdie," "Starlight Express," "The Music of Andrew Lloyd Webber in Concert," "Les Misérables" and "Me and My Girl." His extensive credits include performances with some of the world's legendary entertainers including Victor Borge, Christine Ebersole, Mitzi Gaynor, Marvin Hamlisch, Robert Klein, Gladys Knight, Liberace, Steve Lippia, The Marvalettes, Maureen McGovern, Anthony Newley, Patti Page, Chita Rivera, Dinah Shore and Mary Wells. He is founder and CEO of Girod Records, a New Orleans based record label, and he is a voting member of The Recording Academy (GRAMMY Awards). 
Christopher Kozak is an associate professor and director of jazz studies at the University of Alabama, where he directs the UA Jazz Ensemble.
Kozak was a Downbeat Jazz Award recipient in 2000, 2001 and 2002 with the UMASS Studio Orchestra on double bass. He has performed with Greg Abate, Joe Alessi, Geri Allen, James Argiro, Victor Atkins, Jamie Baum, Warren Chiasson, the Jimmy Dorsey Orchestra, Peter Ellefson, Peter Erskine, John Fedchock, Sim Flora, Giacamo Gates, Kathy Kosins, Vladislav Lavrik, the Guy Lombardo Orchestra, Andy Martin, the Michael Glaser Reputable Quintet, David Goloshokin, Danny Gottlieb, Jeff Holmes, Steve Houghton, Marlon Jordan, Adam Kolker, Yusef Lateef, Delfeayo Marsalis, Virginia Mayhew, Dick Oatts, Regis Philbin, The Birmingham Seven, Lew Soloff, Sal Spicola, and Rob Zappulla.