2017 Alumni of the Year to be Honored at Homecoming
09/27/2017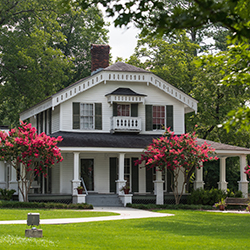 The Jacksonville State University Alumni Association announces the 2017 Alumni of the Year. These outstanding members of the Gamecock family will be recognized during halftime at the Homecoming football game on Oct. 28.
ALUMNUS OF THE YEAR
Wayne Rowe '76/'78

Mr. Rowe has earned two degrees from JSU: a BA in sociology in 1976 and a Master of Public Administration in 1978. He has served as Chief Executive Officer of Quality of Life Health Services, Inc., since 1982. In his role as the CEO of the private, non-profit corporation, he is responsible for operation of a Public Housing Program, which provides primary care services to residents of the Greater Gadsden Housing Authority. He led the development of one of the first school based health centers in Alabama and has more than 30 years of experience working with Congress to advance healthcare legislation. He is a member of the Alabama Primary Health Care Association, the National Association of Community Health Centers, the JSU International House Board, the Etowah County Kidney Foundation, Regions Bank Board of Directors, and the Industrial Development Authority. He previously served 12 years as a board member of the Gadsden City Board of Education and holds the distinct honor of serving as its first African American Board President. He and his wife, Amelia, have five children and 12 grandchildren and the couple resides in Hokes Bluff, Ala.

ALUMNA OF THE YEAR
Dr. Colleen M. Schmitt '81

After Dr. Schmitt earned a BS in biology from JSU in 1981, she went on to earn a Doctor of Medicine degree from the University of South Alabama in 1986 after completing her internship and residency in internal medicine at Harvard's Beth Israel Hospital in Boston. She is a gastroenterologist and president of the Galen Medical Group – the largest, independent, multi-specialty physician practice in Chattanooga, Tenn. She was the first woman in independent practice to become president in the 75-year history of the American Society for Gastrointestinal Endoscopy, representing over 14,000 gastroenterologists worldwide. She has worked in health and policy at the local, state and national levels. She serves on the board of the Chattanooga-Hamilton County Medical Society. She is a founding physician for Volunteers in Medicine and a volunteer for the Project Access – organizations that provide healthcare for the uninsured. She volunteers for local leadership programs, high schools and the JSU alumni Boots on the Ground initiative through the mentoring program. She served on the JSU alumni board from 2004-2009. At JSU, she was a Marching Southerner and a member of the A Cappella Choir. She and her husband, Clint, a former JSU music education major and saxophone section leader for the Marching Southerners reside in Ooltewah, Tenn.

YOUNG ALUM OF THE YEAR
Laura Lundy Wheale '10

Mrs. Wheale earned a BA in theatre from JSU in 2010, where she competed on the Gamecocks Tennis Team, including the 2010 undefeated and OVC Champion team, and received the OVC Academic Medal of Honor for the 2008-09. She was also a member of Phi Mu Sorority, Phi Kappa Phi Honor Society, and the Omicron Delta Kappa Leadership Honor Society. Upon graduation, she attended the Cumberland School of Law of Samford University in Birmingham, Ala., where she was named the Scholar of Merit in Shakespeare and Trial Advocacy and was a member of "Women in Law." During the summer months in law school, she attended classes in Los Angeles at the Lee Strasberg Theatre and Film Institute. She began her law career alongside her father with the law firm of Parker and Lundy in Cedartown, Ga. From there, she moved to Atlanta and joined the firm of Childers, Schlueter and Smith, where she currently serves as an associate attorney. She began auditioning for film roles as an actress and has landed parts in "Sully" with Tom Hanks, "Billy Lynn's Long Halftime Walk" and "A Larger Life," co-starring Fred Thompson. She plans to continue to pursue a career in law and acting. She and her husband, Patrick, reside in Atlanta, Ga., with their two dogs, George and Lucy.

MILITARY ALUMNUS OF THE YEAR
Col. Michael Martel '93

Col. Martel earned a BS in computer science from JSU in Dec 1993 and was commissioned as a second lieutenant into the signal corps and detailed to the infantry for his first three years in the Army. He served in tactical positions as platoon leader, executive officer, communications officer and commander at various levels in the 101st, 2nd Infantry Division, 82nd Airborne Division, 11th Armored Cavalry Regiment, 75th Ranger Regiment, and 35th Signal Brigade. He helped stand up the Army's first Cyber Protection Brigade and also served as the G6 and Chief Communications Officer for Allied Land Command, NATO.  He is currently serving as the G6 and Chief Communications Officer for the US Army Special Operations Command.  He has seven combat tours of various lengths in Afghanistan and Iraq.  His awards and decorations include the Defense Meritorious Service Medal, the Bronze Star Medal (two oak leaf clusters), Army Meritorious Service Medal (three oak leaf clusters), Joint Commendation Medal (one oak leaf cluster), Army Commendation Medal (three oak leaf clusters), Army Achievement Medal (two oak leaf clusters), Combat Action Badge, Ranger Tab, Expert Infantryman's Badge, Master Parachutist Badge and Air Assault Badge. He holds a master's degree in telecommunications from the University of Colorado. He and his wife, Moi, have two sons, Cody (20) and Jacob (18).

OUTSTANDING FACULTY/STAFF MEMBER OF THE YEAR
Terry Casey '93/'94

Mr. Casey began his career as an admissions counselor at JSU in 1995, after earning a BS in finance in 1993 and an MS in counseling with a concentration in student personnel in 1994 from the university. In 1996, he was named Director of Student Life. Over the past 21 years, he has been instrumental in developing an award winning Gamecock Orientation program, implemented the First-Year experience course for all first-year students, and helped create the campus tradition, Freshman Convocation. In 2016, he was named JSU's first Dean of Students in more than 20 years. He is responsible for overseeing Gamecock Orientation, the Student Government Association, Fraternity and Sorority Life, Freshman Forum and the Office of Community Standards and Student Ethics. His honors include the Southeastern Panhellenic Conference Fraternity and Sorority Advisor of the Year, Distinguished Service Award by the Southeastern Interfraternity Conference, JSU Faculty Advisor of the Year for Delta Chi Fraternity, and the Faculty Advisor of the Year by the International Delta Chi Fraternity. He resides in Jacksonville and has one son, Colin, who is a first-year student at JSU and a member of the Gamecock Baseball Team.

ALUMNI CHAPTER OF THE YEAR
Theta Eta Alumni Chapter of Omega Psi Phi Fraternity

The Omega Psi Phi Alumni Chapter is led by president, Mr. Royce Woodruff '94/'04. The chapter represents more than 90 JSU graduates across the nation. Mr. Woodruff resides in Flowery Branch, Ga., and will receive his Doctor of Emergency Management from JSU in December.

To nominate someone for the 2018 Outstanding Alumni of the Year Awards, complete the form online by Feb. 1.