JSU Opens State-of-the-Art Finance Lab
08/17/2017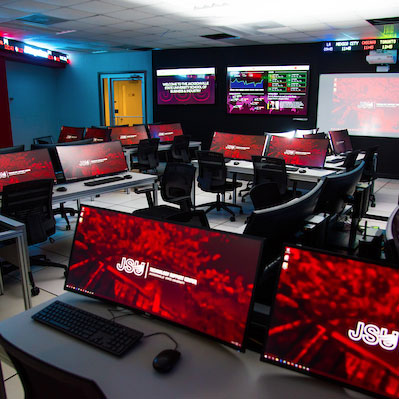 By Heather Greene
Just in time for the fall semester, the JSU School of Business and Industry officially opened the newly renovated Finance Trade Lab on Aug. 17, which will allow students to have a hands-on approach to the world market like never before.
Merrill Hall, Room 115, was originally utilized to house the computer mainframe for the entire university over 30 years ago. When technological advances outran the equipment housed there, the room became used as a storage space. However, as might only seem appropriate, Room 115 is now once again home to some of the most cutting edge equipment and perhaps the most intensive technology remodel in JSU history. 
"This is probably, in all of IT, the biggest job, I would imagine, that we've ever undertaken," said Andrew Higgins, the JSU IT systems consultant who worked with the department on the technology installation.
Faculty can now wirelessly project to a Smartboard with any device as they lecture, while students can pull up the instructor's screen on one of 46 UltraWide screen computers for an up close view of the lecture. Instructors can also set the computers to collaboration mode, which facilitates class-wide discussions and projects.
Televisions on both sides of the room display the bond market and CNBC. The room is lined with tickers that display the New York Stock Exchange and NASDAQ, and the world clock creates a focal point in the room, which lets students observe almost instant changes in stock prices as the markets close, first in Hong Kong.
For Dr. Bill Fielding, dean of the School of Business and Industry, and Dr. Bill Scroggins, department head for finance, economics and accounting, said this remodel has been a long-time dream for the department. Fielding credits JSU President John M. Beehler, a certified public accountant and former business school dean, as being instrumental in making this dream a reality.
"I pray it provides students a real view of the markets, how markets are working continuously," said Fielding. "It provides them with a better feel for what's happening in the world."
Fielding calls the facility a "top notch training and educational tool" and explains that it has impressed both parents and students alike this past summer. He even had three students in one day who were so impressed with the remodel that they changed their major to business.
For Scroggins, who teaches a course entitled "Investments," his classroom will now be enhanced tremendously via this lab.
"I'll be able to bring the financial markets into the lecture in much greater detail," Scroggins said. "Previously, I've only ever been able to talk to them about trading, and now we're actually going to be able to do it."
Not only will the lab enhance learning, but Scroggins explains that having the equipment like this enhances the students' job prospects, as they will become even more marketable to future employers. The financial analytics platform used in the lab, Morningstar, is the same product used extensively in the financial services industry, which will be a valuable addition to a business major's resume.
Another tool for students is the School of Business and Industry's Student Managed Investment Fund (SMIF), a legacy of a retired finance faculty member. Students who are members of the Financial Management Association are able to make the decisions in how this fund is invested. The lab is equipped with an "overflow" room for these students to meet and discuss how this money will be invested in the world market.
"A finance lab like ours has become more and more the trend, especially in AACSB accredited business schools such as this one," said Scroggins. "The quality business programs more and more have implemented and built these finance labs like ours. It's an indication of a very high quality program. Only the highest quality business programs across the world have these. They're very expensive. We feel very very fortunate."
The trading lab is not the only new space in Merrill. There have been a total of 14 classrooms renovated over the past year, as well as new furniture and a stock market ticker in the main foyer.