School of Science to Host Solar Eclipse Viewing Party
07/28/2017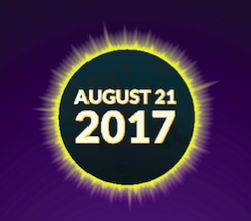 A spectacular total solar eclipse is coming to North America on August 21 and the JSU School of Science is hosting a viewing party from 12:30 p.m. to 3:30 p.m. on the front lawn of the Theron Montgomery Building. 
The community to welcome to learn more about the celestial phenomenon and safely view it through pinhole projectors and solar glasses during the viewing party. Due to the limited supply of solar glasses, the university is encouraging couples, families and small groups to share a pair. Water and shade will be provided. 
Under no circumstances should people gaze directly at the eclipse without solar glasses, as permanent eye scarring and even blindness can occur. Traditional sunglasses are ineffective and binoculars and telescopes will only further damage the eye. Come view it safely on campus! Can't make it to campus and don't have any solar glasses? View the eclipse on TV or online. NASA will be live streaming the event online and on social media. 
What is a solar eclipse? It is simply the moon casting a shadow on Earth as it moves between us and the Sun. This particular eclipse is special because it is a TOTAL eclipse, meaning the Earth, moon and sun will perfectly align, briefly turning the sky to night. Birds will return to their nests, the temperature will drop, and stars will appear. 
Here in Jacksonville, we can expect roughly 96 percent of the sun to be covered by the moon - technically a partial eclipse, but still out-of-this-world. The eclipse will occur in our area from 12:30-3:30 p.m., with greatest totality around 1:45 p.m. 
This is the first time since 1918 that a total solar eclipse has moved across the entire US and the first visible solar eclipse from the contiguous US since 1979. The shadow of the moon will move from Oregon to South Carolina, crossing 14 states in the path of totality and will be at least partially visible in all 50 states. The next eclipse in the US will take place in 2024, when 12 states will be in the path of totality. Alabama will get its turn in the path of totality in 2045.