Power Outage at Daugette Hall as Renovation Nears Completion
07/27/2017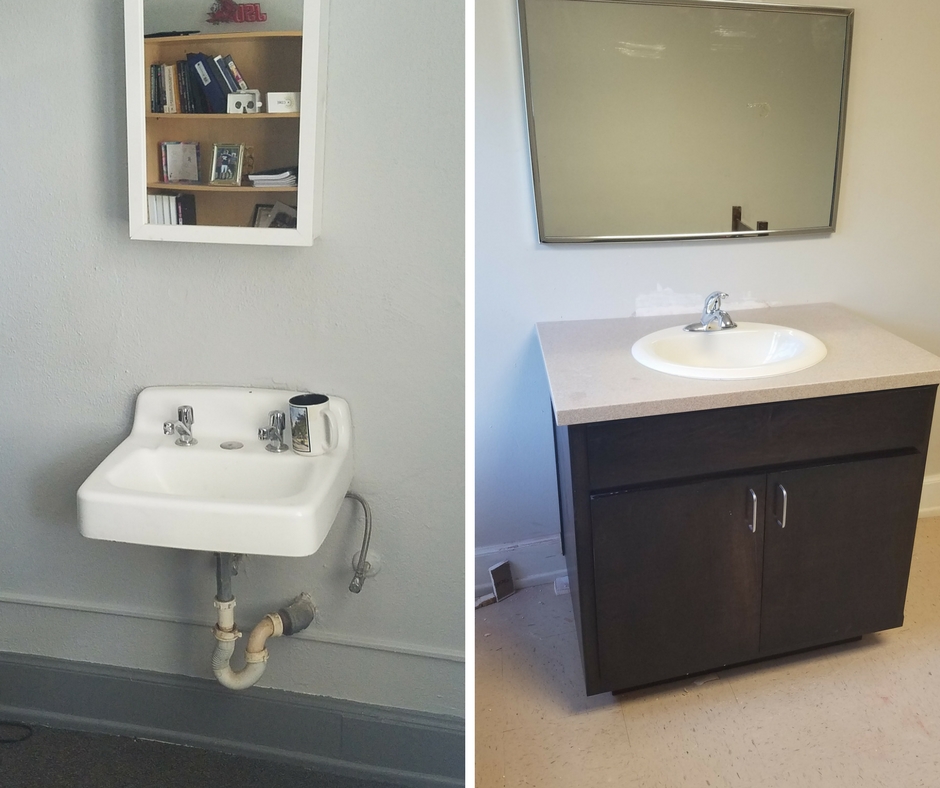 Before and After: New sinks and vanities are being installed in each residence at Daugette Hall.
Pardon our progress. There will be a power outage at Daugette Hall on July 28-29 for electrical work at the historic building currently under renovation. Areas affected include the offices of the Center of Excellence for Veteran's Affairs, CORE, Disabled Student Services & Counseling Services, and portions of the Computer Center and Student Housing.
In November, the JSU Board of Trustees approved a proposal to overhaul the aging campus mainstay to add much-needed student housing. The project was fast-tracked, with much of the work taking place this summer. Upgrades include:
Adding the first elevator in the building
Replacing sinks in student rooms with new vanities and mirrors
Removing the stem radiator heating system and window air conditioning units and replacing with a new Mitsubishi HVAC system 
Installing thermostats in each residence, allowing students to adjust the temperature in their rooms
Renovating six sets of restrooms to meet current ADA accessibility codes
Renovating five exterior entrances to meet current ADA accessibility codes
Converting the lower level into new the Center of Excellence for Veteran's Affairs, with a dedicated entrance and new office suite with ADA accessible restrooms
The updated residence hall will reopen to students this fall.