JSU to Recognize ADA Day
07/14/2017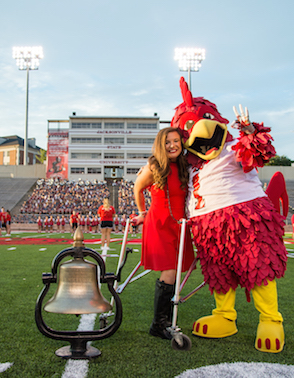 By Heather Greene
On July 26 each year, the Americans with Disabilities Act is celebrated throughout the country as ADA Day. However, 365 days of the year, Jacksonville State University works to provide students with disabilities the support they need to pave the road to success.
Bailee Bryant is just one of the many students who has experienced the individualized customer service offered by JSU Disability Support Services (DSS). Originally from Pinson, Ala., Bryant, who has cerebral palsy, was considering larger universities before she visited JSU, where the caring DSS team became the defining factor in her decision to attend the university.
"The DSS services at JSU are vastly different than any other school I've ever been to because they're personable," said Bryant. "They want to know about your concerns, what you need, because every student situation with disability services is going to be a little bit different. I love the small town atmosphere, and I know everyone says that, but I felt like I was more than just a number; I felt like I was a part of the community." 
The word "transition" is what Bryant uses to describe her college experience. Currently a sophomore, she said the beginning of her college journey consisted of a few "trial and error" moments of finding life hacks that worked for her. From getting help to and from her car, to having a classmate carry her books in to class, she explained how JSU has assisted her in overcoming every obstacle.
Outside the classroom, Bryant has not let her disability keep her from enjoying an active lifestyle on campus. She is a member of the Zeta Tau Alpha, Freshman Forum, Student Senate, and is an Ambassador.
"We want to be integrated into society just like anybody else," she said of students with disabilities. "I wouldn't want anybody to tiptoe around me because I look a little bit different, and I think anybody with a disability would speak to that. It makes it harder for us to be able to have that college experience we need."
Bryant is the daughter of Brandon and Rhonda Bryant, and she has one sister, Brooklyn.
ADA compliancy is something JSU takes to heart. On Feb. 1, 2016, the university was recognized by Gov. Robert Bentley with a Certificate of Recognition for its significant accomplishments toward improving ADA accessibility on campus. Recent renovations to campus to better support students like Bryant include:
Automatic doors installed in the Theron Montgomery Building
Automatic doors installed at the Houston Cole Library
Automatic doors and accessible bathrooms installed in Merrill Hall
Accessible bathrooms installed in Brewer Hall
Accessible seating, accessible bathrooms, additional accessible parking and curb cuts implemented at the Pete Mathews Coliseum
Accessible bathrooms and elevator installed at Bibb Graves Hall
Accessible bathrooms installed at Leone Cole Auditorium
Accessible door installed at WOW Wingery
Ramp installed at Salls Hall
Ten ADA residence units provided in renovated Sparkman Hall
Two automatic doors and accessible bathrooms installed in Daugette Hall
Signage updated for campus
JSU will recognize ADA Day with a lunch and learn event on July 26, 12-1:30 p.m., in Houston Cole Library, Room 10B. Dr. Tim King, vice president for student affairs, will deliver a presentation regarding disabilities from a personal perspective. This event is free and open to the public.
For more information on the Disability Support Services available at JSU, please call 256-782-8380 or click here. 
Photo: Bailee Bryant with Cocky (JSU/Matt Reynolds courtesy).