Cyber Security Workshop Gains National Attention
06/29/2017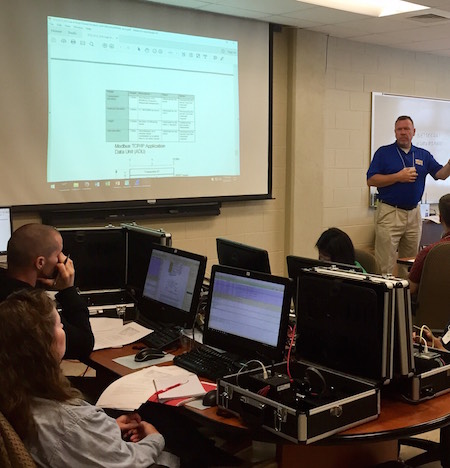 Over June 22-23, Jacksonville State University hosted the Industrial Control Systems Security Faculty Development Workshop, which attracted cyber security faculty members from nine states across the nation. The workshop is funded by a grant from the National Science Foundation and is a collaborative project by Jacksonville State University and Snead State Community College.
According to Dr. Guillermo Francia, III, the principal investigator of the project, "JSU is very pleased to partner with Snead State in this important undertaking that has a national significance for the present as well as the future generations. We are in an enviable position to be able to educate future cyber warriors in the field of industrial control system security and to develop novel curriculum materials that can be adopted at the national setting. JSU and Snead State, having been designated by the National Security Agency as National Centers of Academic Excellence in Cyber Defense, remain active in fulfilling their commitment to promote cyber security education and training."
Expanding the industrial cyber security program will enhance the teaching and learning of the skills necessary for protecting our critical infrastructures. The program continues to develop control systems security curricula and is on its second year of offering the faculty development workshop. The participants received curriculum materials and resources in the form of hardware and software to enable the development of content and skills to meet the needs of their students.
For more information on cyber security at JSU, please contact Dr. Guillermo Francia at gfrancia@jsu.edu.
Photo: Attendees at the workshop (Dr. Francia courtesy).