Behind the Wheale: JSU Graduate Takes on Law and Hollywood
06/20/2017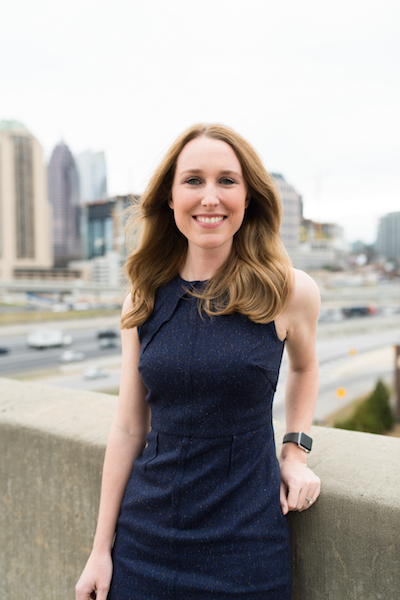 By Heather Greene
At first glance, the office of Laura Lundy-Wheale ('10) might seem like that of any other Atlanta lawyer. Her husband Patrick, also an attorney, holds the office adjacent to hers, and George, their beagle, has the difficult task of greeting clients. Yet, Wheale lives somewhat of a double life. When she's not working on a case for a client, she can be found on film sets with some of Hollywood's biggest names pursuing her other passion – acting.
Despite her full-time job, Wheale has plunged into the film world, landing a role on the Ang Lee film, "Billy Lynn's Long Halftime Walk," with a star-studded cast: Joe Alwyn, Vin Diesel, Steve Martin, Kristen Stewart, Bruce McKinnon, Chris Tucker and Deirdre Lovejoy. She starred as the title character's sister.
As the film is set in Texas but filmed in Locust Grove, Ga., Wheale's authentic Southern accent helped her easily glide into this role, and the on-set voice coach, who also did the voice coaching for "Titanic," helped her and others appropriately add in that Texas twang to their lines. In the film industry, where Southern accents are often learned, Wheale's dialect is rich with authentic Southern charm.
"A lot of people like the accent because it is very different," said Wheale "On the flip side of that, I've been told multiple times 'you need to learn how to neutralize it.' I guess that's something I'm working on, but I also feel like it's something that makes me who I am."
Soon after, she was cast as a reporter in the Academy Award-nominated film, "Sully," directed by Clint Eastwood and starring Tom Hanks.
"I got to meet him in hair and makeup actually," Wheale said about meeting Hanks for the first time. "He came over and introduced himself to me...It was one of those things like, 'I know who you are. You're Tom Hanks.'"
"I've been very spoiled with both those movies, having worked with such directors because it was such a pleasant experience," Wheale said.
Originally from Cedertown, Ga., Wheale grew up in a family that believed in exposing their four children to various fields of study, the arts, and hobbies so they could discover their own talents. At the age of 12, Wheale was introduced to acting at the Alliance Theatre in Midtown, and she forever fell in love with the stage. Seeing her passion for acting and knowing there was no community theatre in Cedartown, her parents, JSU graduates Bill and Catharine Lundy, started a children's community theatre, which hosted productions each summer as Wheale grew up. 
Another one of Wheale's many talents that she discovered as a child was tennis, and when she finished high school in 2006, she accepted a tennis scholarship at JSU.  
"It's a tradition in our family to go to Jacksonville State," Wheale said, reflecting on her family tree comprised of multiple Gamecocks.
Juggling tennis practices and matches, drama rehearsals, studying, and Phi Mu involvement, her "renaissance" lifestyle carried over into her college years. She laughs recalling a time when she was so exhausted from her hectic routine that she fell asleep in the corner of the Black Box in the Stone Center during a rehearsal. However, she expresses how appreciative she was that JSU was willing to work with her on her demanding schedule, explaining she "found that everyone was very friendly and supportive." 
Wheale holds fond memories of JSU and to prospective students says, "You gotta go there, especially if you're wanting to have the experience where you are going to be able to go walk across campus and see at least three people you know. Coming from a small town, that's what I like."
Upon graduating from JSU in 2010 with a bachelor's degree in theatre and a minor in English, she continued to follow in her father's footsteps by entering Cumberland School of Law. For her, choosing to study law was also a conscious decision of working towards gaining access through doors that are sometimes difficult to open in the film world.
During the first two years of law school, Wheale found herself taking a step back from acting for no apparent reason, but feeling the void that left in her life, she knew that had to change. So during the summers of 2012 and 2013, she enrolled in the Lee Strasberg Theatre and Film Institute in Los Angeles, selected based upon the fact that her favorite JSU drama professor, Susan McCain, had trained there with Lee Strasberg.
This unlocked the door to the film industry and became Wheale's first introduction into acting on film. "It was just opening up another world that, I think, I was just intimidated by," explained Wheale.
Now, that intimidation seems to have subsided, having two huge film credits on her resume. 
"I've been very spoiled with both those movies, having worked with such directors because it was such a pleasant experience," Wheale said.
Wheale's love of theatre even played a role in her marriage engagement. Her husband, Patrick – who she met in law school – proposed to her on stage at the Cedartown Theatre after a production of "Into the Woods." The day the couple said "I Do" in 2013, JSU was represented.  
"I invited all of my tennis teammates to my wedding," she said. "Each lived all over the world but found a way to Cedartown to attend my wedding.  Through our relationships built at JSU, we are all forever bonded.  I can't think of a better way to capture the bond that JSU encompasses for me."
After tying the knot and passing the bar, the couple joined Childers, Schlueter & Smith, LLC in Atlanta, which is conveniently also a growing area for the film industry today. When not practicing law or on a set, Wheale can be found attending live performances, watching movies, or bouldering.
From small-town shows each summer in her hometown to the JSU Stone Center stage to working with directors Clint Eastwood and Ang Lee, Wheale has worked to strategically be where she is in her career. While tight-lipped about her future plans, audiences can bet that this will not be the last time we see Wheale on the silver screen.
Photo: Laura Lundy-Wheale in her current hometown of Atlanta (Matt Reynolds/JSU courtesy).