Faculty Spotlight: Laura Barrow
05/03/2017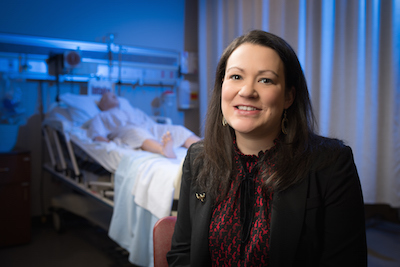 Laura Barrow, JSU nursing instructor, specializes in nursing culture and faculty/student interaction. 
"I am interested to see how the online shift in many nursing programs will affect the relationship between faculty and students as well as the culture of nursing practice," she said.
The JSU alumna earned both her BS and MS in nursing from the university. She is currently in the dissertation phase of her PhD at Mercer University. She teaches critical care at JSU and seeks to incorporate a great deal of simulation and visual aids into the classroom.
"I strongly feel that, for nurses, stories make concepts come to life," said Barrow. "I try to put the topics that we cover into a narrative that will stay with students. I also enjoy hands-on demonstrations when possible so that the students are able to put what they have learned into action and better understand the issues that may present themselves during situations."
Over the course of her teaching career, Barrow has included more scenarios than she did when she began teaching. She and her students can often be found in the simulation center practicing CPR by singing songs to get the rhythm right. At the end of the semester, her students can expect to encounter active scenarios with high fidelity mannequins. 
"I really want students to feel like our class time is a conversation and that I am not just talking 'at' them," said Barrow. "I want their interaction. In my online classes, my students are already nurses. I try to help them develop a scholarly dialogue to assist them with their future progression in either graduate school or leadership positions in their institutions." 
Barrow understands the difficulty of the courses her nursing students will encounter but likes to remind them that if they have been admitted to the program, they have already shown they are capable of the work. She explains to students: "Remember that the reason our program is tough is because one day you will be the person who holds another's life in your hands. We will help you get ready to do that and to succeed in a growing healthcare field."
JSU is thankful to have healthcare instructors like Barrow who are preparing students with the knowledge and experience necessary to save lives.