Coach Jana McGinnis Makes OVC History
05/09/2017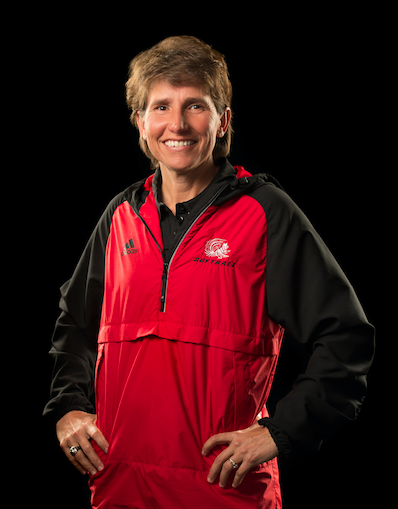 Coach McGinnis has led JSU Softball since 1994.
Softball Coach Jana McGinnis made history on May 8 when she was named Coach of the Year by the Ohio Valley Conference for an unprecedented sixth time. She passes Southeast Missouri's Lana Richmond for the most Coach of the Year honors in OVC history.
At the OVC's annual pre-championship banquet at the Oxford Civic Center on May 9, the Jacksonville State softball team was awarded its 2017 OVC Regular Season Championship Trophy after the All-OVC squads were revealed. The Gamecocks enter this week's tournament at Choccolocco Park as the No. 1 seed after winning their sixth OVC regular season crown and the third in the last four years.
Between the lines, JSU had six players honored as all-conference players, led by pitcher Whitney Gillespie, catcher Jamie McGuire and outfielder Leila Chambers on the First Team. Second baseman Anna Chisolm and outfielders Stephanie Lewis and Emily Woodruff were selected to the Second Team.

All three JSU outfielders were all-conference picks, just the sixth time in OVC history that all three outfielders from one team were on the first and second teams. It is the fourth time that JSU has achieved the feat (2005, 2007, 2009), while Eastern Kentucky did it in 2003 and 2016.

Gillespie earned First Team All-OVC honors for the second-straight season after leading the OVC in earned run average. The Pelham native and defending OVC Pitcher of the Year was just as dominant this season, posting an 8-0 mark and a 0.45 ERA in league games. She has not suffered a loss in conference play in two years.

Overall, she posted a 17-4 record and a 1.11 ERA that ranks 10th in the nation. She has twice had streaks of over 25 consecutive scoreless innings this season and held opposing batters to a .192 batting average. She is currently sixth in career wins at JSU with 44 and her .759 winning percentage is tied for the best in a career in school history.

McGuire also earned First Team All-OVC honor for the second year in a row after posting a career year for the Gamecocks as a senior. The Glencoe native was one of the most dangerous hitters in the OVC in 2017, boasting a team-high .364 average that included a .468 clip in league games.

In her second year as the Gamecocks' starting backstop, McGuire handled the top pitching staff in the OVC in the field, while also punishing opposing pitching staffs from the plate. She leads JSU with nine homers and a .636 slugging percentage, while also sporting a team-best .438 on-base percentage.

Chambers has been white hot against OVC pitching this season, bouncing back from a slow start to earn All-OVC honors for the first time in her career. The Junior from Molena, Ga., holds a .330 average on the season with seven doubles, five homers and 24 RBI.

Her numbers against league pitchers are even better. Chambers hit .477 in OVC play, the best of any player in the conference, with all five homers coming in OVC games. She holds a gaudy .909 slugging percentage in conference play, continuing success that started by her earning OVC All-Tournament honors last season.

To her right in the Gamecocks' outfield was Woodruff, who patrolled centerfield as well as anyone in the OVC to earn All-OVC honors for the second-straight season. The junior from Albertville hit .323 on the season with five doubles, three homers and 22 RBI. She also stole 13 bases but made outstanding defensive plays game after game for JSU.

Lewis rounds out the JSU outfield with her first All-OVC selection. The Fort Meade, Fla., native that was named to the OVC's All-Newcomer Team in her freshman season of 2014 has been the team's starting left fielder for four seasons and is one of the most consistent bats in the OVC. She enters the OVC Tournament with a .336 average, including a ,320 clip in league play.

Chisolm, a sophomore from St. Louis, also makes her All-OVC debut after a stellar season as the Gamecocks leadoff batter. A triple-threat player, Chisolm hit for average (.349), power (eight home runs) and used speed (20 stolen bases) to jump start the OVC's top offense this season. She leads JSU with 53 hits and with 44 runs scored.

The Gamecocks, who are the top seed in the OVC Tournament, will start play on May 10 against No. 8 seed Belmont at 5:30 p.m. All games will be played at Choccolocco Park.