Faculty Spotlight: Dr. Tina Deshotels
04/03/2017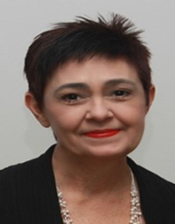 Dr. Tina Deshotels, professor and coordinator of the sociology program at JSU, arrived on campus in August 2005.
Originally from Opelousas, La., Deshotels completed her Bachelor of Arts at the University of Louisiana at Lafayette and went on to earn her Master of Arts from Middle Tennessee State University and Ph.D. at Florida State University.
Specializing in theory, gender, and deviance, she stated, "My interests are very broad, and sociology - especially gender theory and deviance - gave me the ability to study many topics from a similar theoretical and methodological framework…Research gives me the ability to explore my curiosity and use that information to help inform my teaching and community/professional service."
Deshotels varied research interests range between exotic dancing to gender and depression in the nursing home, to pickpocketing to shelter in place kits at the Anniston Army Depot - and all matters in between.
A typical day in Deshotels' classroom will begin with a reading comprehension quiz in the first five minutes. Additionally, she always starts her day off with an outline on the board, which serves as their "map" for the day's topic and as a study guide for the exams. She will open the lecture, which she tries to make no more than 15 minutes long, by giving a definition of the subject and a variety of examples to illustrate the topic. Active learning is encouraged, as she also incorporates exercises, role-playing, games, and discussion questions. She believes in clear communication and makes a serious effort to ensure that students are fully aware of what is expected of them. Students who take her class can expect "extensive feedback on written assignments," which is helpful when progressing through the class.
"The biggest changes I've made [over my teaching career] is that I now tell students why I'm doing what I'm doing, how it is related to the other assignments, and how it will benefit them," explained Deshotels. "I also make sure I connect this directly to the job market, advanced education goals, citizenship responsibilities, and/or personal family life. I do most of the same things, but I let students know the purpose and benefit. I've implemented a section in the syllabus titled 'marketable skills you will gain in the course' and refer to it as we move through the material."
Deshotels enjoys "the continual growth" that happens to both her and her students during a course. "My teaching is guided by a passion for learning that involves an ethical responsibility to have students, when they walk out of class, be better people, in terms of knowledge, skills set and/or disposition, than when they walked in," she stated.
To students wishing to be successful not only in her classroom but also in college, Deshotels stated, "Generally, I'd advise students to be a scholar, a life-long learner in particular; be curious, critical and constructive. Don't short change yourself by doing the bare minimum to get by. Motivate yourself to become responsible for your own learning. Don't be afraid to be wrong." 
On her JSU experience, Deshotels stated, "JSU is special for a number of reasons but what most drew me here was that the culture is student focused, focusing on ensuring we are giving students access to high quality education that includes specific skills, content and dispositions designed to give them the tools to become active and engaged citizens and scholars."
JSU is lucky to have Deshotels and instructors like her who seek to make the lessons learned in the classroom pertinent to everyday life.
Photo: Tina Deshotels (courtesy Deshotels).