Faculty Spotlight: David Thornton
04/06/2017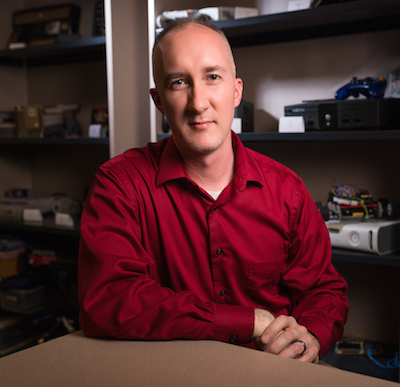 Dr. David Thornton
Dr. David Thornton, an associate professor in the JSU Department of Mathematical, Computing and Information Sciences, arrived at the university as an undergraduate in 1997. Upon earning a Bachelor of Science in computer science in 2001 and a Master of Science in computer science in 2003, he immediately landed a position as a full-time faculty member at his alma mater. He went on to receive a PhD in computer science at Auburn University in 2008.
Thornton specializes in game development, game-based learning, and gamification. This interest initially began during his childhood days of tinkering with his family's computer and playing video games, "which were just becoming inexpensive and high-quality enough to be enjoyed in the home," he explained.
These interests have transferred well to his classroom, where students can expect courses to be "heavily activity-based with lecture only as needed." In his game design course, students work in small teams to create games. He strongly encourages them to invest the time to practice what they have learned, but his courses are not necessarily all fun and games. He explains his role in these hands-on settings as "essentially a project manager."
"My job is part entertainment, part education," said Thornton. "I have to create a learning path with just the right slopes and gaps, while also telling the occasional corny joke."
Thornton can often be found sitting at a table with 4-6 students looking at their laptops or a large whiteboard and TV screen. But it is this interaction that he says he most enjoys, especially when he is able to help students learn the skills they need to become successful.
On what makes JSU a unique place, Thornton says, "Genuine caring and small class size. In the first couple of weeks, I've learned all my students' names. No one is 'just a number' here." 
JSU is thankful to have faculty like David Thornton who help students "level up" both in the classroom and in life!