Campus Closed on April 5 Due to Severe Weather Threat
04/04/2017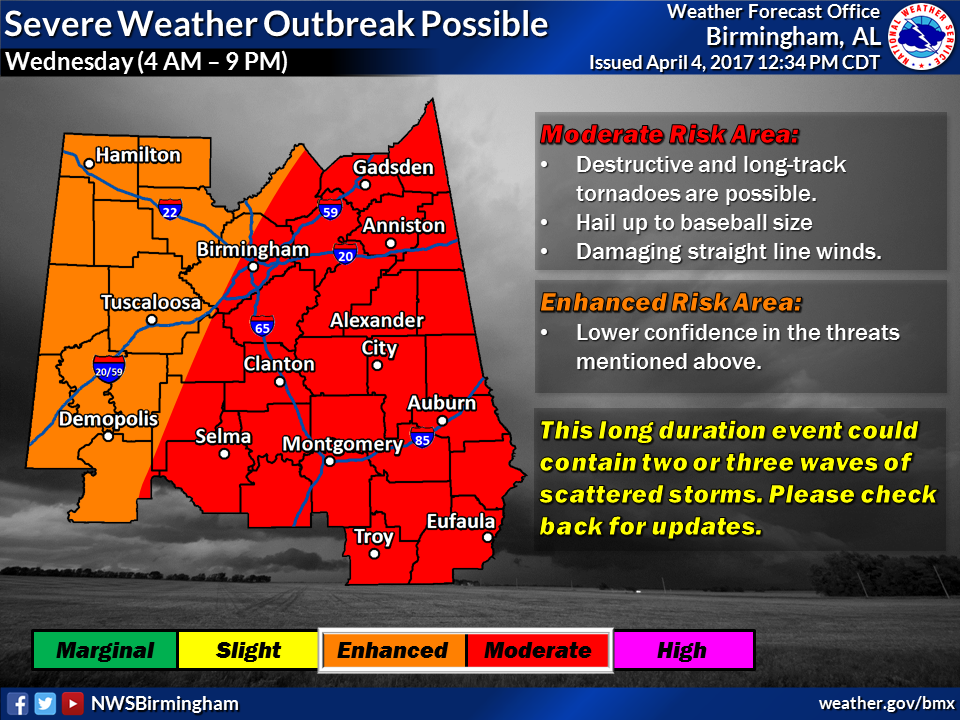 JSU will be closed on Wednesday, April 5, due to two rounds of severe weather that are forecast for our area. According to the Calhoun County EMA, the first line of severe thunderstorms and heavy rain is forecast to move through the area between 6-10 a.m. These storms bring the likelihood of high winds and the chance of an isolated tornado. The greater threat will come later in the day, between the hours of 4-8 p.m. This second line of storms could include super cells and rotation, and could produce damaging tornadoes. These storms could be accompanied by large hail and damaging winds.
 
JSU encourages all our students and employees to remain weather aware throughout this evening and into Wednesday, and to monitor the JSU website, JSU social media, and local media outlets for updates on JSU operations. Major announcements will be made via JSU's e-Alert system. If you have not signed up for e-Alerts, we encourage you to do so here.
 
For students on campus, the Jack Hopper Dining Hall will be open regular hours on Wednesday. All other dining locations will be closed.
 
The Gamecock Express will not run.
 
Cockystock, which was scheduled for Wednesday, has been rescheduled for April 11 from 2-6 p.m. on the TMB Lawn. 
 
Should a tornado warning be issued, the Leone Cole Auditorium will be opened as a safe room. All campus residents are also encouraged to find out their residence hall's safe area ahead of the storm, and to shelter in place should conditions require it. Typically, the safe area is the center hall of the lowest level of your residence hall, away from doors and windows. 
 
For off-campus residents in need of shelter, the safe room at the Jacksonville Public Safety Complex will be available during a tornado warning. The Jacksonville Public Safety Complex is located at 911 Public Safety Dr., S.W., (behind Walmart). 
 
In the event of a medical or other emergency, please call 911.