2017 Season Football Tickets Now on Sale
04/12/2017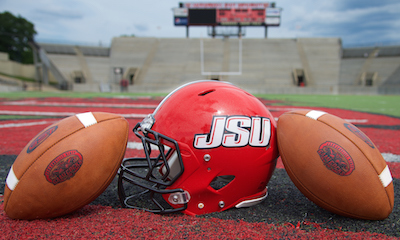 Season Tickets are now on sale for the 2017 Jacksonville State football season, one that will feature five home games and a nationally-televised opener in Montgomery.
 
The three-time defending Ohio Valley Conference Gamecocks placed tickets for the upcoming season on sale Tuesday and also released their game times and one schedule change. The final game of the regular season with Tennessee State will now be played on Thursday night, kicking off at 6 p.m. on Burgess-Snow Field on Nov. 16.
 
The Gamecocks will open the season a week before everyone else on Aug. 26 in the Guardian Credit Union FCS Kickoff against rival Chattanooga in Montgomery. Played at the recently renovated Cramton Bowl on ESPN, the game kick off at 5 p.m. CT and will put JSU on ESPN's top network for just the fourth time and the first time since the 1992 NCAA Div. II National Championship Game.
 
Fans that purchase season tickets in the Club Level will receive a ticket to the opening game in the state capitol for no extra charge, while individual tickets to the game can be purchased through JSU for $20 through Aug. 1.
 
JSU's home schedule will begin under the lights on Sept. 23 with a 6 p.m. game against Liberty. The Flames will visit JSU Stadium in a return trip from the Gamecocks' win in Lynchburg, Va., last season. It will be Band Day at JSU for the Liberty game.
 
The Eastern Kentucky game on Oct. 14 will kick off at 3 p.m. and will wrap up Preview Day and Family Day on JSU's campus. Two weeks later, JSU will host Southeast Missouri for Homecoming, also a 3 p.m. kickoff. On Nov. 4, the Marching Southerners will hold their annual reunion during the Gamecocks' 1 p.m. game against Murray State.
 
The final game of the season will be the Thursday night game against Tennessee State. The 6 p.m. kickoff will mark the second-straight season JSU has hosted a Thursday night game, with the 2016 opener against North Alabama drawing over 22,000 fans.
Season ticket prices start at just $60 for general admission. Club level tickets purchased before May 1 will cost just $450 per seat and will increase to $500 after May 1. Also available for purchase through the JSU Ticket Office are tickets to the Gamecocks' Sept. 9 game at Georgia Tech for $25 each. Fans can purchase season tickets now online here or by calling (256) 782-8499 or 1-877-JSU-TIXX. For information on suite purchases or renewals, please contact Ed Lett at elett@jsu.edu or at (256) 782-8101.