JSU Nursing to Host 3rd Annual Cocky Run/Walk
03/05/2017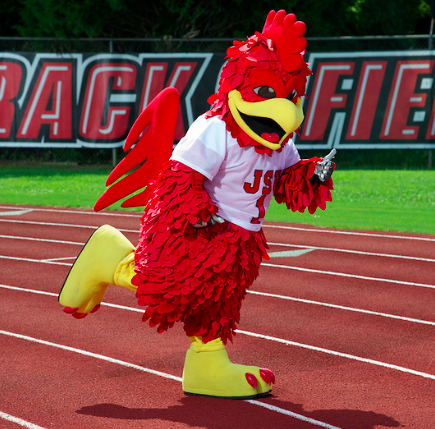 The JSU Department of Nursing will host its 3rd annual Cocky Nursing Run/Walk for Your Life 5k and 1-mile Fun Run on April 8. Join Cocky, Cinderella, Beauty and the Minions for this fun, family-friendly event supporting nursing education. 
Now in its third year, the idea for the Cocky Run/Walk got started a couple of years ago when Dr. Christie Shelton, dean of the School of Health Professions and Wellness, was brainstorming ways to raise scholarship money for nursing students. After proposing the plan to co-worker and running partner Carla Willingham, the two – quite literally – ran with the idea. 
"My vision was that we could tout this race as 'The Most Educational 5K on the Planet'," said Shelton. "We have students hold up signs along the route with bits of health information on them. The participants seem to really enjoy it."
Not only is the race educational, it has become one of the highest attended races in the Calhoun County area. Last year's race raised nearly $8,500, with proceeds going towards a nursing scholarship fund for undergraduate and graduate students. This year, the race will be chip-timed, and the course is certified with USA Track and Field.
After the run, enjoy live music by the JSU Jazz Ensemble, snap selfies in a photo booth complete with running props, and let a massage therapist work out any post-run muscle kinks. A Be the Match table will be set up for people interested in having their cheek swabbed for possible bone marrow donation through the National Bone Marrow Registry. Additionally, Waffle House will be on site serving up their world famous hash browns, and, as has become tradition, post-race ice cream sundaes will be available.
Registration is now open and those who register by March 24 are guaranteed a race T-shirt. Pre-registration is $20 if postmarked by April 6 or completed online by April 7 at midnight. A discounted rate of $15 for all JSU students, faculty and staff, and the Anniston/Gadsden Runners Club is good until April 6 at midnight. Race day registration for all participants is $25 and can be accepted by either cash or check. The 1-mile fun run (T-shirt not included) is $10. For anyone who does not wish to run but would like to be involved, a T-shirt can be purchased for $10.
For more information or to register, click here.