Famed Spanish Piano Duo to Perform on Campus
03/06/2017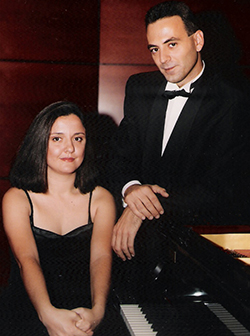 Spanish born duo-pianists Elena Martin and Jose Meliton will perform at the annual Foothills Piano Festival at JSU on March 11, 7:30 p.m., at Mason Hall Performance Center. Admission is free and open to the public.
Martin and Meliton have been hailed by critics and audiences alike as one of the most compelling talents of their generation. These pianists emerged in only a few years as one of the main references within the realm of Spanish two-piano music. American Music Teacher Magazine says the duo plays in "perfect synchronization and with hypnotic poetry...sharply chiseled refinement, fierce commitment and palpable charisma."
In a short period of time, the duo has conquered the most critical audiences in the US, Europe and Asia. Their numerous collaborations with Spanish Embassies and cultural institutions throughout the world make them the ambassadors of two-piano music from Spain.
The duo is known for Martin's own transcriptions for many of the pieces they perform. Having approached and performed the two-piano transcriptions which Enrique Granados and Frank Marshall made of Isaac Albeniz's "Triana" and "Navarra" respectively, Martin decided to continue this challenging task, and today the duo and audiences around the world enjoy more than a dozen transcriptions from various Spanish composers, which constitute a splendid addition to the music literature for two pianos. Copies and recordings of Martin's manuscripts of "Spanish Dance No. 1" and "Spanish Dance No. 2," from "La Vida Breve," are proudly kept at the Manuel de Falla Archives in Granada, Spain.
Since their powerful appearance at the MTNA National Convention in Los Angeles, the duo has received enthusiastic acclaim as guest artists in festivals, concert series, master classes and workshops in more than 30 states in the US alone. Martin and Meliton both hold the Titulo Superior de Piano from the Real Conservatorio Superior de Musica de Madrid, as well as master's degrees from the University of North Carolina at Greensboro.
Listen to audio samples of the duo here.