JSU Music Hosts New Recorder Festival
02/06/2017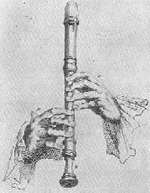 When most people think of the recorder, they remember it as an introductory musical instrument used during childhood to prepare them for modern band instruments. However, the recorder dates back to the Middle Ages and has a wealth of repertoire all its own. On Saturday, Feb. 11, the David L. Walters Department of Music will host a Recorder Festival for children and adults, 9 a.m. to 3:45 p.m., in Mason Hall Performance Center. 
Organized by JSU Director of Choral Activities Dr. Patricia Corbin, the new event will divide participants into Elementary and Adult groups, taught by guest clinicians Cliff Huckabee and Jody Miller. After a day of instruction, the festival will culminate into a short final concert at 3 p.m. 
"I am a recorder player and I had a big recorder program when I taught middle school ages ago," said Dr. Corbin. "It is fun to play and a great instrument to help students develop advanced musical skills, especially if you push through the more basic repertoire. I modeled this festival after a similar festival that I took my students to when I was teaching public school in New Jersey, and my students loved to participate. We are starting small here at JSU and hope to have it grow."
All children in the Elementary group were required to preregister, but adults may register the day of the festival. The cost of the festival is $28 and includes lunch in the Jack Hopper Cafeteria. Sign up online. For more information, contact Dr. Corbin at 256-782-5544 or pcorbin@jsu.edu.