Faculty Spotlight: Nathan Wight
02/20/2017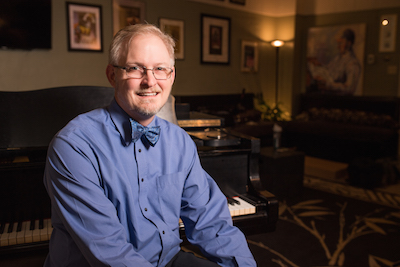 Nathan Wight, Director of Operatic Activities at Jacksonville State University, grew up on a ranch in Kermit, Texas and came to Jacksonville State University in the fall of 2003.
Wight grew up singing in church his entire life. He was a pre-med/biology senior at Abilene Christian University when he saw his first opera, and his life was forever changed. 
"I can do that," he thought to himself. He then auditioned for the next opera and landed the title role.
After completing his Bachelor of Science in biology, Wight went back to school to earn a Bachelor of Arts in vocal performance. He went on to complete a master's in vocal performance from Rice University. In 2003, he completed his Doctorate of Musical Arts from Arizona State University and came to JSU to teach. His areas of concentration include opera performance/production, diction, and vocal pedagogy.
His passion for teaching is evident. "The thing I enjoy most about teaching is that moment when you 'blow a student's mind,'" he stated. "You know that moment that the light bulb turns on and you see their desire to learn more." 
Wight believes that his role as a teacher "is not to 'teach,' but to facilitate learning."
A typical day for Wight is unlike most university instructors, as he sees most of his students one-on-one, quite often with a collaborative pianist present. A typical face-to-face lesson with Wight is two-fold – focusing upon technique and the collaborative process of expressing the literature – so critical thinking is a necessity. 
When he first began teaching, he did what he had always experienced, but in the last two years, Wight has drastically changed his approach to teaching by reaching students with the technology they utilize everyday.
In his classroom, Wight marries the music of the past with the technology of the present, as he utilizes iPads for sheet music. Students even have an app called ForScore that has a foot pedal to turn pages. When staging operas, he simply takes a picture and posts it so that students can easily know their place. iPads are also utilized to video choreography for productions and post it on Facebook for reference and learning.
He is incorporating even newer technology in the current semester. "In private applied lessons, we are using a new app this spring called Collabra music that will allow the students to have a video archive of all their rehearsal and performance time and allow me to comment on any of it," explained Wight. 'The initial response from our test group is that the potential for someone seeing what students are doing in their practice time helps them focus on what they should be doing."
His classes are anything but typical, and his students in his diction class might be seen running three-legged races to find answers tacked to trees or learning transcription skills in diction through a game of sorting screws, which was also helpful to the opera.
Regarding helpful advice for students taking his courses, Wight stated, "The number one thing a music student has to do is practice, and practice is also the most boring thing that a music student has to do. My students have to stay focused on the goal, not on the daily grind. I encourage students to go beyond what is demanded in their academic classes. I also try to encourage them to not focus on the grade, but on learning the material – especially when it is something that is going to impact the trajectory of their entire career." 
JSU is lucky to have someone like Nathan Wight leading Operatic Activities and engaging his students in a not-so-traditional fashion.