A&E Filmmaker to Discuss "The Killing Season" at JSU on Feb. 13
02/05/2017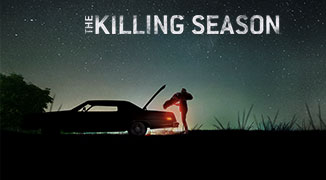 A&E documentarian Rachel Mills will visit Jacksonville State on Feb. 13 to discuss "The Killing Season," a documentary series focused on the connections between five unsolved serial killing cases. A screening will begin at 7 p.m. on the 11th floor of the Houston Cole Library, followed by questions and answers with Mills. Admission is free and open to the public and refreshments will be served.
Mills began her career in filmmaking at the much-lauded Edit Center in New York City, where she selected and shepherded such films as "Winter's Bone," starring actress Jennifer Lawrence in her breakout role. In 2010, Mills moved into producing with "A Matter of Taste," a feature documentary profiling famed chef Paul Liebrandt, which premiered on HBO and garnered an Emmy nomination.
Mills partnered with award-winning filmmaker Joshua Zeman in 2013 to produce and co-star in "Killer Legends," a documentary investigating true crimes that have inspired our scariest urban legends. Most recently, she produced "Mavis!," a documentary on gospel/soul music legend and Civil Rights icon Mavis Staples and her family singing group, the Staple Singers. The film received critical acclaim after its SXSW premiere in 2015, being named "one of the best music documentaries of this decade" by Paste Magazine, and premiered on HBO in February 2015.
Continuing to explore their unique perspective of "real life horror," Zeman and Mills developed "The Killing Season" for A&E, an investigation into the terrifying connections between five unsolved serial killer cases. It is executive produced by Jigsaw Productions and directed by Academy Award winner Alex Gibney.
"Rachel, along with her co-documentarian Joshua Zeman and Executive Producer Alex Gibney, have created a program which has captured the imagination of true crime fans," said Joseph Scott Morgan, associate professor of applied forensics at JSU. "What sets 'The Killing Season' apart from the rest of the true crime genre is that it follows leads initiated by 'web sleuths.' According to producers, substantive leads have been developed in the yet unsolved deaths of several Long lsland New York prostitutes. The program documents the producer's efforts to follow up these clues." 
For more information on the event, contact Morgan at 256-782-8586 or jsmorgan@jsu.edu.