JSU to Build New Student Recreation Center
01/24/2017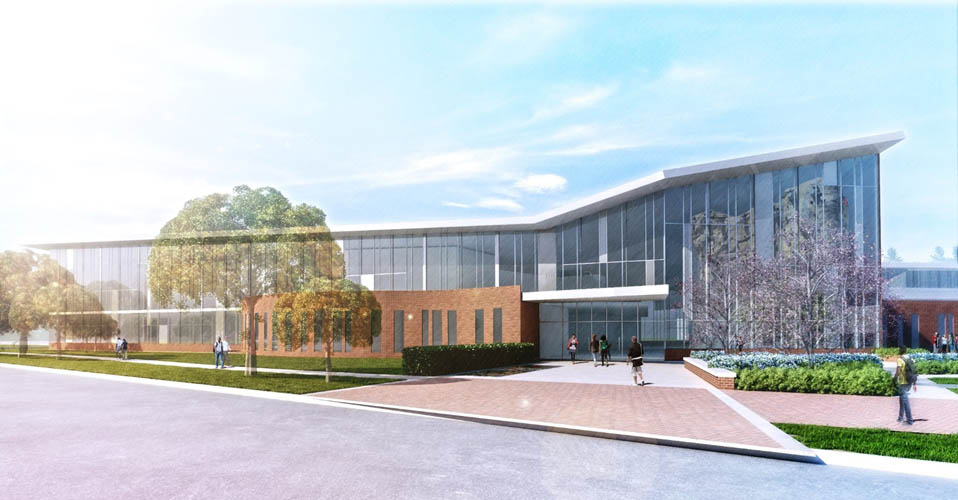 Architectural rendering of the new student rec center
The Jacksonville State University Board of Trustees has unanimously approved a proposal to build a new recreation center on campus to enhance student life.
The 101,000-square-foot facility will include recreational gymnasiums, a weight and fitness area, a wellness center, an elevated walking track, racquetball courts, a small leisure pool and whirlpool, a 40-foot indoor climbing wall, group exercise studios, and locker rooms. It will also feature a lounge area where students can hang out between classes. The building will be located next to Kennamar Hall, on the southeast corner of campus, next to Pelham Road.
"We're excited about what we think will truly be a game-changing building for our students and our campus," said President John M. Beehler. "It will establish a new gateway experience for campus visitors and make JSU more competitive for student recruitment and retention. Also, a range of new student development programs will be initiated — specifically designed for student employees, intramural participants, sport club members as well as general student patrons - that will improve the general quality of the JSU experience."
The construction budget is approximately $28 million, which will be developed through the first Public-Private Partnership (P3) undertaken by JSU. Under this structure, the university will enter into a ground lease with the JSU Foundation, which will be responsible for financing, constructing, operating and maintaining the project through the term of the ground lease. At the end of the term of the ground lease, the building will fall under the ownership of the university.
"Many of the project benefits will be apparent to even the most casual observer, while some additional and important benefits will result from the way in which the facility and its programs will be delivered and operated," said Dr. Ashok K. Roy, Vice President for Finance & Administration. "From my experience working on P3 projects at other universities, this financial structure will allow the Student Recreation Center to be completed much more quickly while benefiting the long-term management of our balance sheet and credit."
JSU partnered with Brailsford & Dunlavey, Inc., a national program management and development advisory firm, to make the project a reality. The firm conducted numerous information-gathering activities on campus last fall – including meetings with the Student Government Association, a campus-wide town hall, focus group interviews, and a web-based survey that generated responses from more than 1,800 students, faculty and staff – in order to develop strategic objectives and refine the project concept for the proposed Student Recreation Center.
The architectural firm Moody Nolan has been selected to design the building. Upon construction, the facility will be managed by CENTERS, L.L.C., a management company that focuses exclusively on campus recreation for colleges and universities.
Construction is expected to be completed in spring 2019, with a mandatory student fee of $190 per semester taking effect in January 2019 to cover facility expenses.