Camden Swatts Crowned Miss 2017
01/23/2017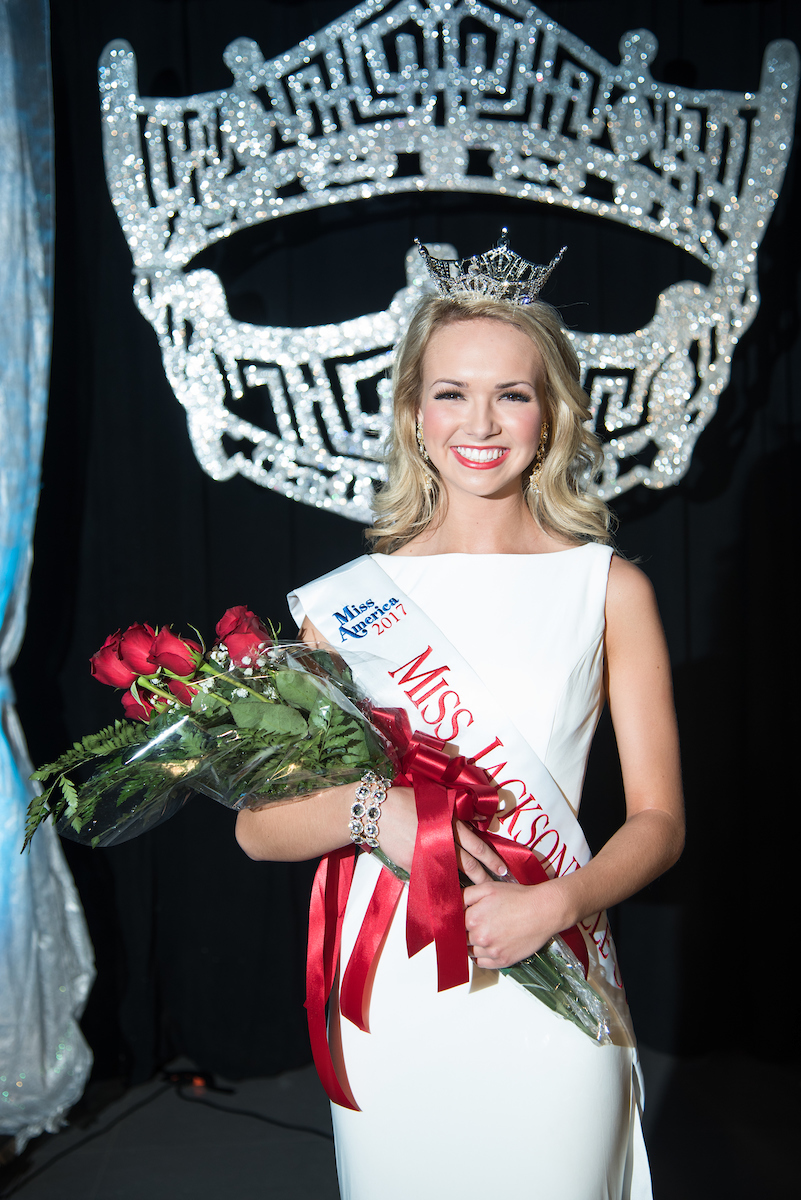 Camden Swatts, Miss JSU 2017
By JoAnna Mitchell, The Chanticleer
Friday the 13th turned out to be a lucky night for freshman Camden Swatts. In front of a cheerful audience, the 18-year-old dietetics major was crowned Miss JSU 2017 and received a $4,600 scholarship for Fall 2017 and Spring of 2018. She will go on to compete in the Miss Alabama Pageant, which will be held June 5-6.
The first runner up and talent winner, Brianna Lucas, of Springville, Ala., received a combined $1,500 towards her tuition for Fall 2017. Taylor Sloan, of Warrior, Ala. took home $250 for Fall 2017 as winner of the Lifestyle and Fitness portion.
The theme of this year's pageant was chosen by last year's winner, Madelynn Barker, who chose the "Empower" theme to honor the pageant's history of creating "confident young women with a servant's heart."
In an interview with the Chanticleer, Miss JSU 2017 shared what it feels like to be chosen to represent her campus in the next phase of the competition: "I feel so blessed. I am excited to have the opportunity to represent JSU!" Swatts said. "I cannot wait to start serving the campus and community that I love."
Swatts is from Beauregard, Ala., where she attended Beauregard High School. She was involved in cheerleading and several other school organizations. Swatts says she loved the close-knit nature of her hometown. In the next phase of the competition Swatts hopes to make many new friends.
"It is going to be a challenging competition, but I know I am going to make memories to last a lifetime" said Swatts.
Meg McGuffin, Miss Alabama 2015, is Swatts' biggest inspiration. Swatts called McGuffin "fearless in all that she does." The two met at Make Your Move Performing Arts where McGuffin teaches dance and Swatts used to take lessons.
"She was such an inspiration and confidence builder to all of the kids by promoting her platform, 'Healthy is the New Skinny'," Swatts said.
Swatts is also thankful for and inspired by her time with other Miss JSU contestants.
"I will always cherish how loving and supportive all of the girls were," Swatts said.
For her talent, Swatts performed a memorial dance for her late cousin, Trey Martin. According to Swatts, her cousin's memory helped her maintain her passion throughout the pageant.
"Remembering my cousin, Trey, makes me want to work hard and always do my best," Swatts said.
Swatts sees her future being filled with helping others maintain their health.
"I see myself being a registered dietitian, educating people on how to improve their health. I hope to help others understand how their diets can affect certain medical conditions," said Swatts.
Swatts had this advice for aspiring contestants: "I would tell any aspiring Miss JSUs to always enjoy the journey no matter where you are. Always work hard and prepare the best you can, then have faith that the outcome of the pageant will be the best for you."
The pageant also spotlighted a "Rising Star." Lois Ann Wester, a straight A student from Oneonta, was honored for her accomplishments with the National Elementary Honor's Society and her community service for the Oneonta Education Foundation. The Miss America Foundation is the world's largest scholarship provider for young women with $45 million awarded in total.
This article was originally printed in the Jan. 19, 2017 edition of The Chanticleer.