Houston Cole Library to be Illuminated Year-Round
12/06/2016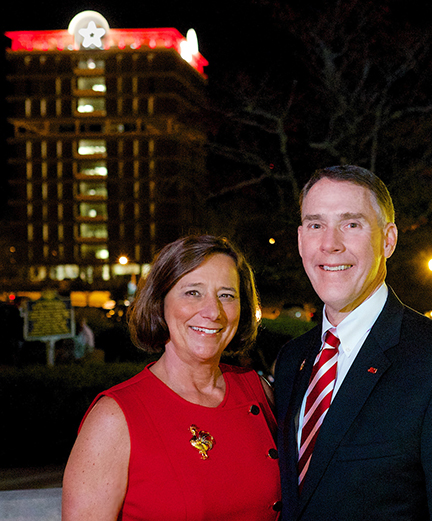 Dr. Pam and President John Beehler with the Houston Cole Library illuminated for Christmas.
When former JSU president Dr. Houston Cole envisioned a new library for JSU, he insisted it be the most visible structure on campus because he believed libraries to be the heart of higher education. Nearly 45 years later, Cole's namesake – which can be seen from the eastern bypass nearly 10 miles away – is about to become even brighter all year long. 
Having illuminated the top of the library for several years in observance of Veterans Day and Christmas, the university began expanding its color palette earlier this year when it lit the balcony blue for Autism Awareness in April and pink for Breast Cancer Awareness in October. Now, the university has purchased floodlights in a full spectrum of colors and will begin lighting the observation deck every night of the year. 
"We plan to recognize some of our nation's most celebrated holidays and honor select special causes by using our highly-visible Houston Cole Library as a marquee," said David Thompson, JSU director of capital planning and facilities.
The 13-story library will be lit red on regular nights, red with stars in the arches for the winter holidays, green with stars in the arches for Veterans Day, pink for Breast Cancer Awareness, blue for Autism Awareness, and a number of other colors for other holidays – similar to New York's Empire State Building light display.