Longleaf Studios Presents Open House Happy Hour on Nov. 9
11/02/2016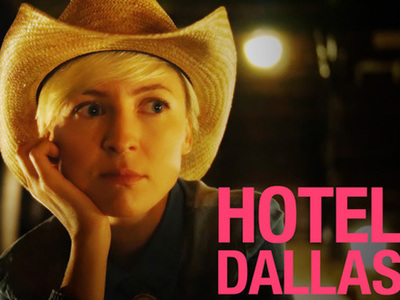 Longleaf Studios presents the new experimental movie "Hotel Dallas" with directors Sherng-Lee Huang and Livia Ungur, as part of the South Arts Southern Circuit Tour of Independent Filmmakers and Longleaf Studios Open House Happy Hour at Longleaf Studios in Jacksonville, Ala. on November 9, 2016. Following a screening of the film, the filmmakers will engage the audience in a discussion about the film and their work.
Set during communist Romania of the 1980s when "Dallas" was the only American show allowed on TV, Hotel Dallas explores the real-life fascination with the American soap through surreal and sublime storytelling. Guest-starring leading man Patrick Duffy and an immense recreation of the show's mansion, this genre-bending road trip across a Romanian dreamscape explores the failed utopias of communism, a new generation's voyeurism of American capitalism, and who shot J.R.
The Southern Circuit Tour of Independent Filmmakers is a program of South Arts. Southern Circuit screenings are funded in part by a grant from South Arts in partnership with the National Endowment for the Arts. South Arts, founded in 1975, is a nonprofit regional arts organization building on the South's unique heritage and enhancing the public value of the arts. Their work responds to the arts environment and cultural trends with a regional perspective, through an annual portfolio of activities designed to address the role of the arts in impacting the issues important to our region, and linking the South with the nation and the world through the arts.
"Only in select cites will you have this kind of opportunity to experience such a film premiere along with producers and directors," said JSU's Pete Conroy, director of the studio complex. "Longleaf is proud to present this for free." 
Doors will open at 6:00 p.m., and guests are invited to enjoy drinks, snacks, networking and tours. At 7:00 p.m., "Hotel Dallas" will begin. A Q&A session will be held after the film with directors Sherng-Lee Huang and Livia Ungur. Admission is free, but all guests are kindly asked to RSVP online here.  
Longleaf Studios is located at 1 O'Connell ST SW, Jacksonville, Ala. 36265. For more information, please visit Longleaf Studios here.