Deck the Halls with JSU
11/19/2016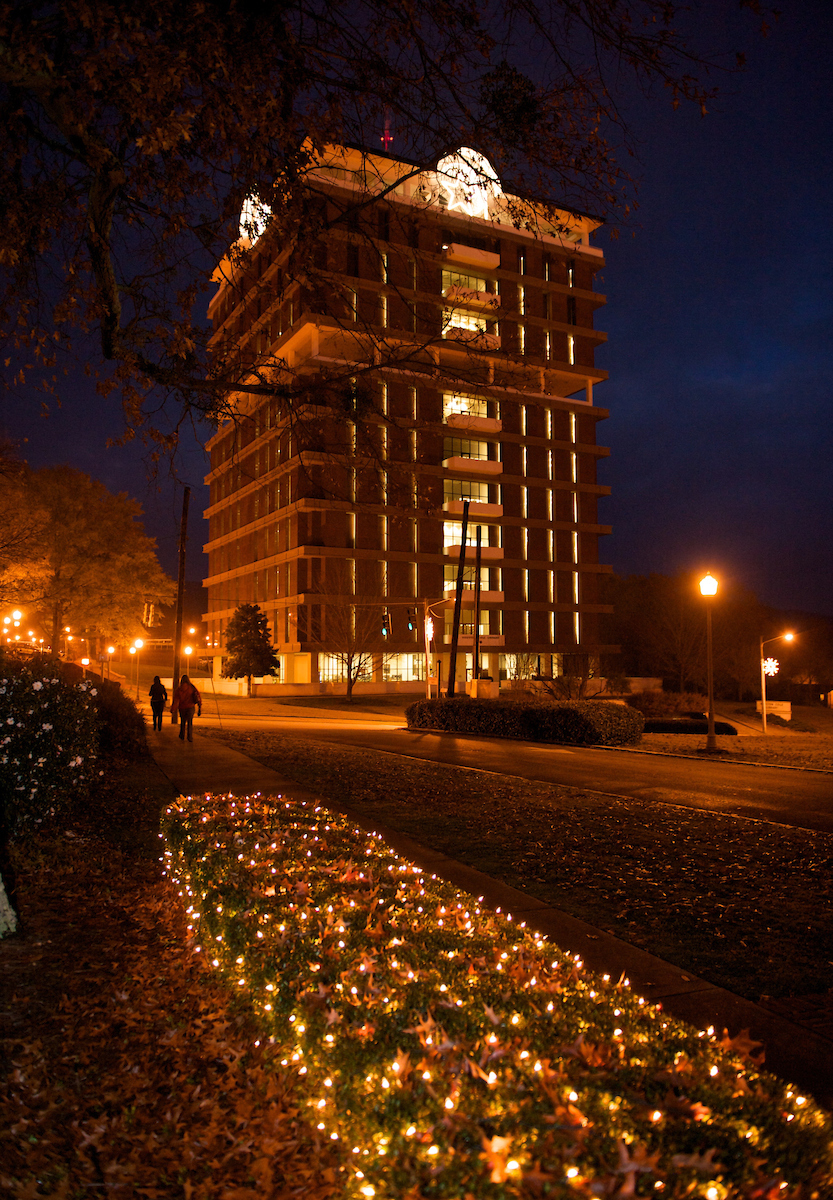 by Heather Greene
The garland and bows have been hung over the entrance of Bibb Graves Hall with care as students hustle and bustle to final exams. But among the chaos that can ensue for any university when closing for the holidays, Jacksonville State is taking time to live up to its motto of "Friendliest Campus in the South" and cordially invites the surrounding community to come join us in lighting up the holidays with goodwill.
The annual JSU in Lights event will take place at Bibb Graves Hall on Wednesday, Nov. 30, 4-5:30 p.m. JSU welcomes the community to join in ushering in the holiday season on campus with the lighting of the university Christmas tree. This event is free, but the Student Government Association will be taking up toy donations for the Jacksonville Christian Outreach Center.  
"JSU in Lights has always been one of my favorite Jax State traditions," said SGA President Jesslan Sharp. "It's a night that provides an opportunity for all of us – students, faculty and staff – to come together to celebrate the holiday season and reflect on everything we are thankful for. It really showcases what it means to be a part of the Gamecock Family."
JSU is also the place to rock around the Christmas tree. On Nov. 29, Circle K International invites the public to a Christmas Dance benefiting Reading is Fundamental. Join us from 5-9 p.m. at the Jacksonville Community Center and be sure to wear your favorite Santa hat, antlers, or crazy Christmas sweater. Admission is $2, and all proceeds will be used to put books in the hands of children from low-income homes. Food, door prizes, and complimentary swing lessons will be available to all attendees. For more information on the CKI Christmas Dance, please contact Ben Pryor at pryor.benjamin7@gmail.com.
"We hope to have a big turnout for this event," stated Pryor, president of the JSU CKI. "The Reading Is Fundamental project helps fight against illiteracy across this country. I hope everyone comes with a big heart as we dance ourselves into the season of giving!"
After taking time to give back to those in need this holiday season, please join the Calhoun County Civic Chorale as they present their Winter Concert on Dec. 4, 3 p.m., at the Church of St. Michael and All Angels, located at 1000 West 18th Street in Anniston. This event is free and open to the public.
The Chorale is under the direction of Patricia Corbin, director of Choral Activities at JSU, and is accompanied by Lorna Lee Curtis, organist at the United Methodist Church of Heflin. Featured works on the program include Antonio Vivaldi's "Magnificat" and Ralph Vaughan Williams' "Fantasia on Christmas Carols." JSU voice faculty member Nathan Wight will perform as guest soloist. 
Finally, the JSU Planetarium invites you to gaze toward the heavens at Star of Bethlehem, an astronomy show that will journey back to ancient Israel to explore what celestial phenomena the wise men might have followed to bring gifts to the Christ child.
We hope you will join us this season as we endeavor to give back to the community through gifts, dance, song and service. Season's Greetings!