JSU Learning Services Receives Another National Honor
10/11/2016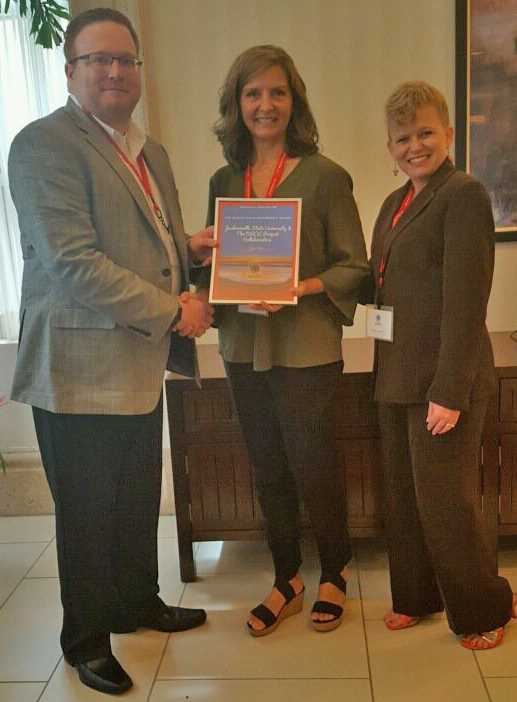 MCIS Professor Dr. Jan Case (center) accepted the award for JSU in Clearwater, Fla. on Sept. 29.
Collaboration between JSU and the NROC Project has garnered the National University of Technology Network's 2016 Shirley Davis Partnership Award, an honor that recognizes educational partnerships between academic institutions and organizations that significantly improve student success.
The NROC Project is a community-guided, non-profit organization focused on college and career readiness. Sustained by NROC member institutions, the William Flora Hewlett Foundation and the Bill and Melinda Gates Foundation, NROC is emblematic of an approach defined by four shared beliefs: Network, Resources, Open, College and Career.
The partnership between JSU and NROC led to an accelerated, one-semester flipped course for remedial algebra students. In the 2014-2015 academic year, 64-77 percent of students who completed the course passed – a dramatic improvement over the historical 44-48 percent pass rate.
"Watching students overcome their math anxiety, surmount a barrier from which they have long shied away, and contribute to their success is a teacher's dream," said Courtney Peppers-Owen, director of JSU Learning Services.
JSU Learning Services was also recognized as NROC Ambassador of the Year in April 2016.