Go Backstage with Willy Shakespeare
10/15/2016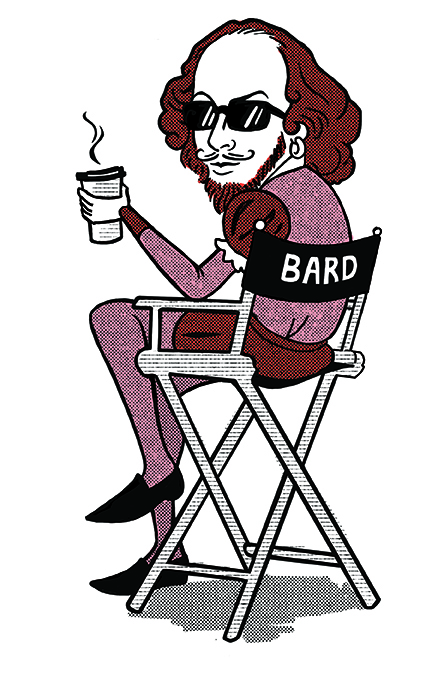 Illustration created by Brandon Vernon.
Are you on your guard when it comes to the Bard? Do you shiver in fear at the thought of "King Lear"? Do you wish for death when reading "Macbeth"? Come calm "The Tempest", tame the "Shrew" and learn that your fear of Shakespeare is "Much Ado About Nothing" at "Backstage with Willy Shakespeare" presented by JSU Drama on Nov. 2-3.
Part Ted-Talk, part Inside the Actor's Studio, this free two-night workshop series will translate the works of William Shakespeare into down-to-earth language anyone can understand. Come learn the cool secrets behind that mad genius Willy that your English teacher never told you!
Hosted by Michael Boynton, assistant professor of drama, the workshops are geared toward high school and college drama students, theater lovers, and anyone interested in learning more about William Shakespeare. Boynton will direct JSU's production of "The Tempest" on Feb. 16-19 and decided to organize the Shakespeare workshops to provide the community a crash course in understanding and enjoying the world's most celebrated playwright.
"We'll focus on Shakespeare's plays not as dry literature but really exhilarating theatre," Boynton said. "I will share a few of the secrets, tricks and techniques that professional actors and theatre artists use to make Shakespeare awesome. You'll get a sneak peek behind the scenes and see actors working on chunks of Shakespeare monologues and scenes the way they are supposed to be done: through play and live performance. So mark your calendar, drop on by, and see that all the world really is a stage!"
Boynton is an accomplished actor, director and a playwright. A Shakespeare specialist, he has participated in Shakespeare workshops with the Stratford Festival in Ontario, served as a guest artist instructor at The Shakespeare Theatre in Washington DC, and is currently a guest artist and company member with the Chesapeake Shakespeare Company in Baltimore. As a playwright, he has worked on Broadway as a creative assistant on a number of plays and musicals, most notably "Hairspray." He also has had numerous pieces – from musicals to screenplays – produced across the country.
"Backstage with Willy Shakespeare" will be held Nov. 2-3, 7-9 p.m., at R. Carlton Ward Theater at JSU's Ernest Stone Performing Arts Center. The workshops are free and open to the public. Come one night, both nights, or just drop in and out whenever you can!
Questions? Email Boynton at mboynton@jsu.edu.