Of Wonderland, Tempests, Life and Liberty: JSU Drama's 2016-2017 Season
09/02/2016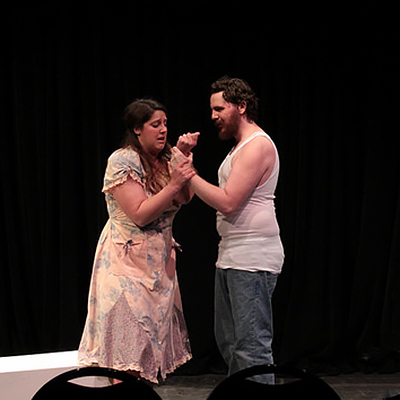 A scene from Tennessee Williams' "27 Wagons Full of Cotton," performed at JSU in 2016. (JSU Drama)
Jacksonville State University's Drama Department is gearing up for another exciting season in Carlton Ward Theater. From classic Shakespeare to a children's play and an original work, the department hopes to showcase its students' range of talent and entertain a variety of audiences.
The first show of the season is "These Shining Lives" by Melanie Marnich. The show follows four female employees of a watch factory in 1920s Chicago. Inspired by true events, "These Shining Lives" dramatizes the dangers of factory life before government-implemented health and safety regulations. The women's health quickly deteriorates, but their spirits do not. They continue to fight their employer in the hopes that no one will have to suffer as they have. JSU Drama will perform "These Shining Lives" Oct. 27-30.
From Nov. 30-Dec. 1, the drama department will host its annual One Act Festival and Student Showcase. All productions will be written, directed and performed by JSU Drama students. Lighting, sound, costumes and set design will also be done by students. This weekend is bursting with student talent that is sure to impress.
The spring semester begins with a classic Shakespearean play, "The Tempest." Prospero, the usurped Duke of Milan, conjures a storm to bring his brother and confederates to his enchanted island. Full of magic and spirits, the island is the perfect setting for Prospero to exact his revenge while protecting his daughter, Miranda. But when she falls in love with one of the conspirators, Prospero's revenge and his relationship with his daughter are threatened. JSU students and faculty will tackle this performance from Feb. 16-19, 2017.
Each year, Alpha Psi Omega, the theatre honor society, performs a show. This year, the APO show will be a children's show by Joseph Robinette: "Dorothy Meets Alice or the Wizard of Wonderland." In this kooky meeting of worlds, a student procrastinating on a book report finds himself in a strange land between Oz and Wonderland. It's his job to help these familiar characters while avoiding both the Wicked Witch of the West and the Red Queen. This show will run from April 7-9, 2017.
The final show of the season will be the winner of the 2016 Southern Playwrights Competition: "The Shackles of Liberty," an original work by Wim Coleman. The Southern Playwrights Competition has been hosted by the JSU Department of English since 1989. The competition accepts original plays by playwrights living in or native to Alabama, Arkansas, Florida, Georgia, Kentucky, Louisiana, Mississippi, North Carolina, South Carolina, Tennessee, Texas, Virginia or West Virginia. The play must deal with the southern experience.
"The Shackles of Liberty" is a fictionalized account of Thomas Jefferson's last day in Paris in 1789. It focuses on his relationships with three women—his European lover Maria Cosway, his older daughter Martha ("Patsy") and his young slave mistress Sally Hemings.
Coleman grew up in Des Moines, Iowa, where he earned a Bachelors of Fine Arts in theatre and a Masters of Arts in teaching in literature and education from Drake University. He and his wife, Pat Perrin, currently reside in Carrboro, N.C. with their daughter, Monserrat. Coleman and Perrin have written many books together, including "The Jamais Vu Papers," and Coleman has won awards for both his poetry and his novels.
Coleman feels he has always been destined to be a playwright. He started attending play rehearsals with his father, a theatre professor, when he was only two years old.
"I'm grateful and deeply honored," Coleman said. "This competition has a long, fine tradition. A play isn't fully a play until it's performed in front of an audience, and theater is always a hugely collaborative undertaking. I look forward to working with the JSU drama department to bring 'The Shackles of Liberty' to life."
"The Shackles of Liberty" will be performed as a workshop on May 19, 2017.
Season and individual tickets for JSU Drama's 2016-2017 season can be purchased online at http://www.jsu.edu/drama/boxoffice or by calling the box office at 256-782-5648.
For more information on the Department of Drama at JSU, including scholarship information and a show schedule, visit http://www.jsu.edu/drama.
For more information about the Southern Playwrights Competition, including rules and deadlines, visit http://www.jsu.edu/english/southpla.html.