Learn About Library Services and Root for the Gamecocks at the First Club Cocky Tailgate Open House
09/07/2016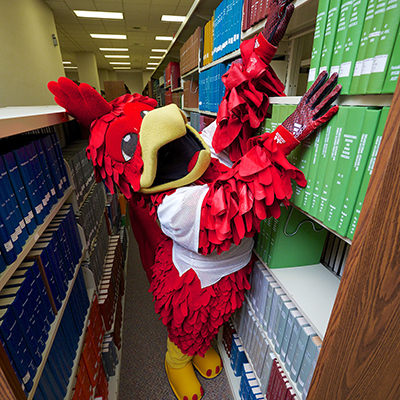 Cocky's ready to welcome everyone to the first Tailgate Open House at the Houston Cole Library. (Steve Latham/JSU)
Two floors! Four floors! Six floors! A Dozen!* 
It's fall semester, which means it's time for the campus community-- especially our freshmen-- to get acquainted with the JSU campus and celebrate Gamecock Game Days!
On Thursday, Sept. 15, JSU students, employees and the community will have their chance to do both at the Houston Cole Library's first Club Cocky Tailgate Open House. The party runs from noon – 2:30 p.m. (or however much time you can spare between classes) and features free tailgate food, opportunities to learn about convenient library services and compete for door prizes, as well as a chance to party with JSU football team, cheerleaders, band, Ballerinas, and everyone's favorite fowl, Cocky! 
The event kicks off at noon with COCKY GO!, which will allow students to visit service points throughout the library to gain eligibility for refreshments and door prizes. (Look at it as a fun way to learn about the place where you'll spend a big chunk of your college career!) At 12:30 p.m., a band ensemble will perform near the lobby area and the main entrance to the library. At 12:45 p.m., Cocky and the JSU Cheerleaders will arrive, followed by the Ballerinas at 1 p.m. and the Gamecocks at 1:30 p.m. The party will close with the awarding of door prizes at 1:45 p.m.
So here's your opportunity to be really loud in the library, JSU! Come out, meet the library staff, learn about the services the HCL offers, and root for the home team.
All for the Gamecocks and the HCL, stand up and holler!
*This is only partially true. The Houston Cole Library is actually 13 floors because it has a basement that houses Learning Services, classroom space and the library's Technical Services department. See? You're gaining useful library knowledge and you aren't even at the party yet!