JSU's GenCyber Camp Lauded by NSA Auditors
09/12/2016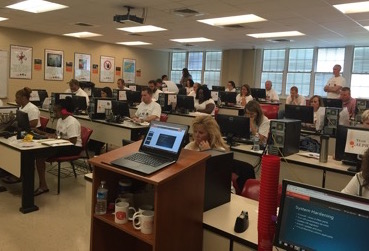 The National Security Agency (NSA) recently released their review of the Jacksonville State University's inaugural GenCyber Cybersecurity Teachers' Camp that was offered in July at JSU.
According to the NSA, "This first-year camp performed like a veteran camp. The program director and staff excelled in presenting a program that the [participants] feel is sustainable." 
One NSA observer called the JSU GenCyber camp a "rising star among other GenCyber camps across the country."
This workshop is one of the many GenCyber camps offered nationwide in the summer and is jointly funded by the National Science Foundation and National Security Agency.  
The GenCyber Camp mission is to train teachers who are assigned to math, science, social studies and technology courses in grades 6 through 12, who can incorporate the lessons from the camp into their classroom to create knowledgeable and safe cyber citizens.
The GenCyber Cybersecurity Teachers' Camp aligns with JSU President John M. Beehler's vision for JSU to be "Transformative, Innovative, and Engaged for Success or the TIES that bind the university together." The GenCyber Cybersecurity Teachers' Camp is just one example of this new vision. Teachers are expected to take what they've learned into their classrooms and present their findings at a follow-up symposium in December.
Dr. Guillermo Francia, III, Director of the JSU GenCyber camp, will present the innovative features of the camp at a national GenCyber meeting in Boston on September 15-16.
For more information about the JSU GenCyber camp, please contact Dr. Francia at gfrancia@jsu.edu.
Photo: JSU's GenCyber camp in July (courtesy Francia).