JSU Community Grieves Loss of Marching Ballerina Katie Beth Carter
09/06/2016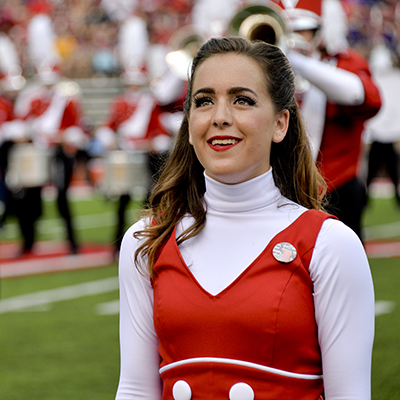 Katie Beth Carter beams during her first field performance with the Ballerinas on Thursday, Sept. 1. Carter passed away on Sept. 5. (Mark du Pont/JSU)
UPDATED: September 6, 2016, 8 p.m.
Jacksonville State University, the Marching Southerners and Ballerinas are mourning the loss of one of their own today. First year student Katie Beth Carter, 18, from Ringgold, Ga., passed away following a vehicle accident on Sept. 5 as she was returning from spending Labor Day weekend with her family. The accident involving her 2011 Honda Accord and a tractor trailer truck took place at the intersection of Hwy. 278 and Roy Webb Road, 10 miles north of the JSU campus. Carter was pronounced dead at Grady Memorial Hospital in Georgia after being airlifted from the scene. 
As news of her passing spread on social media Monday night, a stunned campus community used words like "joy" and "light" to describe Carter, an Early Childhood/Elementary Education major who had performed as a Marching Ballerina for the first time the previous Thursday night. 
On his Facebook page, Dr. Ken Bodiford, director of University Bands, wrote, "Katie was an outstanding young lady and a wonderful person. She had the type of personality that would lift your spirit just by being in her presence." 
He added that she had been "beaming with pride as she came off of the field" on Thursday following her performance at the JSU vs. UNA game.   
"There are no words to describe the pain that we all feel or the sadness we share with her family. Our Southerners family was blessed to have her in our midst, and we will think of her as we enter the field for every performance," he said.
Noelle Stovall, Ballerinas coordinator, spent much of Monday evening with the Ballerinas, consoling them and remembering their "Baby Ballerina," a pet name that the veteran members have for their new members. Stovall said Carter had told several of her fellow Ballerinas that the past few months were the happiest that she had ever seen. 
She said Carter was the "perfect Ballerina to have on the line."
"She always came to practice with a smile; she was joyful," Stovall said. "She worked hard, she was dedicated, and her joy was contagious."
Dr. Janet Bavonese, department head of Curriculum and Instruction at JSU, called Carter a "very vibrant, talented young lady, who was sure to be an asset to education."
University President Dr. John Beehler, who spoke to the Southerners and Ballerinas prior to their Tuesday afternoon rehearsal, said it is extremely difficult to understand how such a tragedy could befall a bright, young student who brought others so much joy.
"The loss felt by Katie's immediate family and our Gamecock Family is great, and we must mourn and grieve this loss by consoling each other in this difficult time," he wrote in an email to students, faculty and staff. He added that the campus can best honor Carter's memory by "continuing the excellence of the Marching Southerners and Ballerinas of which she was so proud."
To help the Ballerinas and Marching Southerners deal with the loss, university grief counselors met with the Ballerinas prior to rehearsal on Tuesday and offered support to the Southerners, Ballerinas and campus community throughout the week.
Funeral Arrangements, Memorial Service
Visitation and a service will be held at City Church of Chattanooga, Tenn. on Thursday, Sept 8. Visitation will be from 4-7 p.m. EDT with a service to celebrate Katie's life and impact at 7 p.m. EDT. In lieu of flowers a scholarship fund has been set up in Katie's honor at North Georgia Federal Credit Union in Ringgold.
The Marching Ballerinas will host a campus memorial service on Wednesday, Sept. 7 at 9 p.m. CDT in the parking lot of Pete Mathews Coliseum. The campus and surrounding community are invited to attend.