Saluting Gamecock Olympians Past and Present as Rio Games Approach
08/01/2016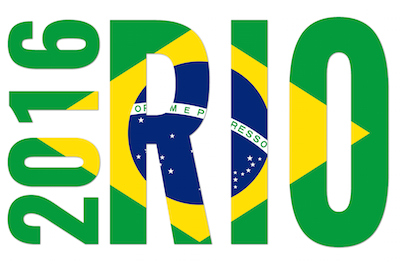 By Heather Greene
Sixteen years ago, Robin Byrd-Goad found herself in Sydney, Australia, competing in the first-ever women's weightlifting Olympic competition. Today, in addition to the world records and medals she has earned throughout her career, she holds a few other titles: wife, mother, coach and JSU student. With the torch to be lit in Brazil on Friday for the launch of the summer games, we caught up with Byrd-Goad to get her insight into the world's most prestigious sporting competition.
Since childhood, Byrd-Goad remembers being fascinated by the Olympic games, waking up in the middle of the night to watch them with her father, who she said was "a huge sports enthusiast." She originally aspired to become an Olympic gymnast but, by age 13, she was competing at the US Women's Weightlifting Open Nationals. At 15, she had already competed in three national weightlifting competitions. In 1987, at the age of 17, she was named a member of the inaugural US Women's Weightlifting team, which participated in the first-ever world weightlifting championship for women. 
Byrd-Goad set her first world record in 1991 and was crowned the world champion in women's weightlifting in 1994. Though it would have been ideal for her to compete in the 1996 Olympics in Atlanta – just two years after being named world champion – women's weightlifting was not added as an Olympic sport until 2000. At age 30, she earned a spot on the inaugural US women's weightlifting Olympic team and competed in the Sydney games.  
"The Olympic experience really set in the evening of the opening ceremonies," reflected Byrd-Goad. "Surrounded by the most talented athletes in the world, by precious teammates, and entering a stadium 80,000 strong, well, 'that's the Olympics.' You know that every person walking alongside of you has been through the same grueling and intense training. There is a deep but understood respect between all athletes across all sporting disciplines. We are a representation of the world all in one place, all for the good of sport, and for a brief moment, without politics and without conflict." 
Unfortunately, Byrd-Goad sustained a wrist injury just two weeks prior to the Olympics. While not in her best shape, she was able to compete and place fifth.
Throughout her weightlifting career, Byrd-Goad has won 20 medals in 10 world championships. She holds the record for more international medals than any other American female lifter. In November 2015, she was inducted into the USA Weightlifting Hall of Fame.  
Byrd-Goad married world champion weightlifter and Pan American medalist Dean Goad. They have three children, who each hope to follow in their footsteps.
In fact, their firstborn – a daughter appropriately named Sydney – was the 2014 American Open Champion in weightlifting and is training in hopes of competing in the 2020 Olympic games. "Her younger brother and sister will be on her heels for the same dream," said Byrd-Goad. Dean Jr. is a USA National Youth record holder and hopes to make the Youth World Weightlifting Team in the next couple of years. Her youngest, Rubylyn is in her second year of being a competitive level 10 gymnast. 
Years after her childhood days of dreaming about Olympics in front of the television, Byrd-Goad still finds herself staying up late watching the Olympics. "I am still emotionally moved watching any sport in the Olympics," she explains.
Currently, Byrd-Goad teaches elementary physical education and coaches high school gymnastics and weightlifting in Newnan, Ga. She recently decided to further her education by pursuing a masters in science in physical education online at JSU.
"The return to school was amazing," stated Byrd-Goad. "I have reawakened an intellectual interest and an advocacy [and] passion for my content area."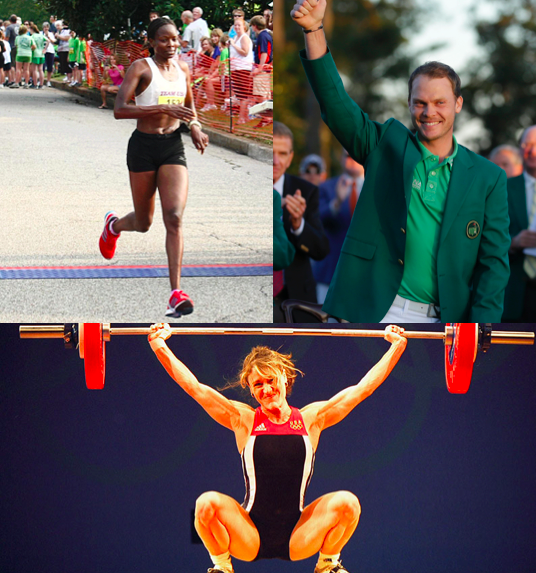 Byrd-Goad is not JSU's only Olympian. During the 2012 London Olympics, JSU student Janet Cherobon-Bawcom competed in the women's 10,000 meter run and finished 12th with a time of 31:12:68. A native of Kenya and member of the USA Track and Field team in 2012, she received her nursing degree from JSU in the summer of 2015.
During the Rio games, former JSU Gamecock golfer Danny Willett will compete for his native UK. The 2016 Masters winner holds the distinction of being the first former JSU athlete to compete in the Olympics. Be sure to follow Willett's progress here. For information on how you can take up the torch to begin your own JSU journey, please click here.  
Photos:
Top Left - Janet Cherobon-Bawcom (courtesy Trent Penny) 
Top Right - Danny Willett (courtesy AP photo) 
Bottom - Robin Byrd-Goad (www.teamusa.org)