Eight JSU ZTA Members Awarded ZTA Foundation Scholarships in Arizona
08/08/2016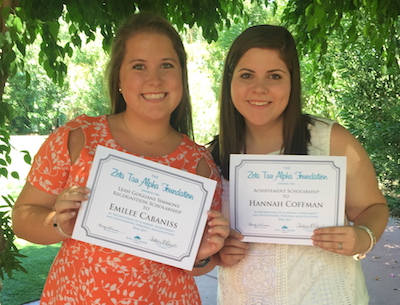 At the national Zeta Tau Alpha Convention, held in Phoenix, Arizona, July 13-17, 2016, eight members of Zeta Psi Chapter of Zeta Tau Alpha at Jacksonville State University were awarded Zeta Tau Alpha Foundation academic scholarships for the upcoming 2016-2017 school year:

Hannah Coffman
Summerville, GA
Zeta Tau Alpha Achievement Scholarship
$3,500

Annalee Posey
Oneonta, AL
Hester South Memorial Endowed Scholarship
$3,000

Morgan Majors
Boaz, AL
Josephine Martin Spradley Memorial Recognition Scholarship
$2,100

Emilee Cabaniss
Greenville, SC
Leah Goggans Simmons Recognition Scholarship
$2,000

Ashlee Goff
Dallas, GA
Gloria Culberson Hice Recognition Scholarship
$2,000

DeLena Harris
Marbury, AL
Dr. Andrea Porter Recognition Scholarship
$2,000

Rana Taylor
Alexandria, AL
Birmingham, Alabama Alumnae Chapter Recognition Scholarship
$2,000

Lindsey Claire Weathers
Alabaster, AL
Zeta Psi Recognition Scholarship
$2,000

Zeta Tau Alpha Foundation Scholarship applicants must maintain at least a 3.0 GPA, be a rising junior or senior in college, and exhibit a high degree of leadership and service to their sorority chapters and college campuses. The ZTA Foundation awarded 260 collegiate scholarships, totaling over $700,000, for the 2015-2016 academic school year, and will exceed those numbers for 2016-2017 awards. 
Jacksonville State University would like to congratulate these outstanding students for all of their hard work! 
Photo: Emilee Cabaniss (left) and Hannah Coffman (right) receive their ZTA Foundation Scholarships at the ZTA Convention in Phoenix, AZ (courtesy Dr. Andrea Porter).