In Pop Culture: Pokemon Go Takes Over Campus
07/18/2016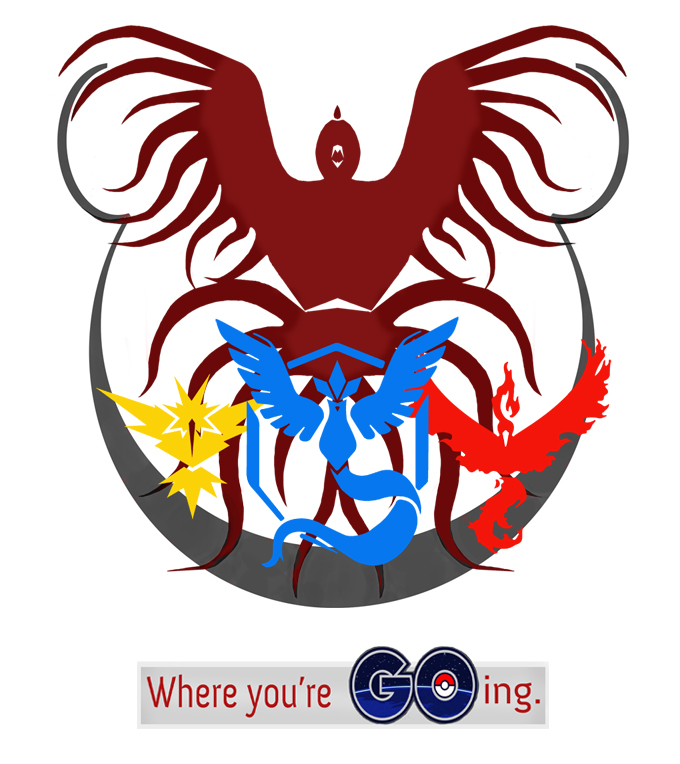 Whether you're Team Valor, Mystic or Instinct - we're all Team Gamecock. Illustration by Megan Wise
by Megan Wise and Katie Cline
Things you may choose to bring to college with this fall include a mini fridge, your laptop and, now, the Pokemon Go app.
On July 6, 2016, Niantic, Inc. released its much-anticipated smartphone app, Pokemon Go, in celebration of the Japanese franchise's 20th birthday. For college students, Pokemon Go is nothing short of a nostalgic blast from the past, and the game has attracted young and old fans alike. The most excited group, though, is probably the 20-somethings, many of whom were born during or around Pokemon's 1996 debut.
Pokemon Go features the original 150 Pokemon with a surprisingly healthy twist. Instead of sitting on a couch and staring at a screen for hours on end, the app requires players to get up and move around in order to catch Pokemon, hatch eggs and battle in gyms.
And the local reception has been huge. The game uses geo-recognized buildings and landmarks as "Pokestops" where players can get a little history lesson and stock up on supplies like healing potions and Pokeballs. In Jacksonville, the most popular gathering spot for players is the city square, which features three Pokestops and always has a plethora of Pokemon and fellow players. 
For Pokemon trainers returning to JSU in the fall, they have more than just classes and football to look forward to. Students will be happy to know that the Pokemon world of JSU is jam packed with opportunities. With four nearby gyms to compete in, including our very own Bibb Graves, over 20 Pokestops, and endless ground to cover, students who enjoy this mobile app game have already found plenty of ways to power up before hitting the books. Regional Pokemon native to this area range from common species such as Rattata, Eevee, Spearow and Zubat, but rarer types such as Tauros, Eggescute and Rhydon can be found with luck and exploration. 
Students will also have an opportunity to pledge their allegiance to another team (besides the Gamecocks, of course!). Upon reaching level 5, players can choose to join Team Valor, Team Mystic or Team Instinct. Each team is symbolized by one of the three original legendary birds: Moltres for Team Valor, Articuno for Team Mystic and Zapdos for Team Instinct. And the team rivalries are already apparent. It's not unusual to be walking across campus and hear someone yell, "Team Valor!" before darting off to capture their prized Pokemon.
Despite the rivalry, nothing compares to being on the Jacksonville square when someone cries out, "I wanna' be the very best!" and ultimately begins a Pokemon theme song sing-along.
So whether you're Valor, Mystic or Instinct, if you're a Pokemon fan, Jacksonville State University is definitely "where you're GOing!"
Megan Wise of Anniston is a JSU senior majoring in liberal arts while Jacksonville native Katie Cline is a junior double-majoring in communications and English.