History Professor Awarded JSU's Third Fulbright for 2016
07/08/2016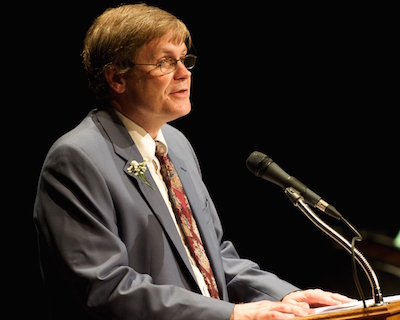 Distinguished Professor of History at Jacksonville State University, Dr. Russel Lemmons, has been named a Fulbright Scholar by the U.S. Department of State. He joins Guillermo Francia and Ellen Peck in becoming the third JSU faculty member awarded a Fulbright this year. It is one of the most prestigious honors one can achieve in academia.
As the United States' flagship academic exchange effort, the Fulbright Program was founded in 1946 by Senator J. William Fulbright to increase mutual understanding between the people of the US and other countries.
More than 360,000 of the nation's brightest students and professors have participated in the program over the past 70 years, 53 of whom have gone on to win the Nobel Prize. The program is administered by the US Department of State's Bureau of Educational and Cultural Affairs.
Specifically, Lemmons is the recipient of a flex grant, a fairly new Fulbright scholarship which allows scholars to conduct research in a couple of shorter trips, as opposed to one long trip. Lemmons will take two trips (one following the Spring 2017 semester and one after Spring 2018), spending a total of three months in Germany. He is sponsored by Ludwig-Maximilian University of Munich.
While abroad, Lemmons will research the life of a Jesuit priest, Rupert Mayer, who opposed National Socialism. He plans to spend a great deal of time in the Jesuit archives and the Diocesan archives in Munich. The results of this research will be seen in a biography Lemmons is writing about Mayer.
An expert in German studies, Dr. Lemmons is a member of the German Studies Association, the university's Holocaust Commemoration Committee, and has served on several departmental committees. He has developed three new courses at JSU: "The History of Modern Germany," "The Rise and Fall of Adolf Hitler" and "The History of the Holocaust." His teaching responsibilities also include both halves of Western Civilization and "Europe Since 1945."
Lemmons has been employed at JSU for 23 years and is no stranger to the Fulbright program. In 1988-89, he received a Fulbright scholarship to study in Berlin.
"I look forward to conducting research, and I look forward to spending time in Munich, which is one of the most livable cities on earth," said Lemmons. "I'm grateful for the opportunity."
JSU is proud of its 2016 Fulbright scholars – Francia, Peck and Lemmons – as they represent the university across the globe and further their own professional development.
Photo: Dr. Lemmons speaking at the annual Holocaust Remembrance event at JSU (courtesy JSU).