Alabama Bat Blitz Comes to JSU July 24
07/22/2016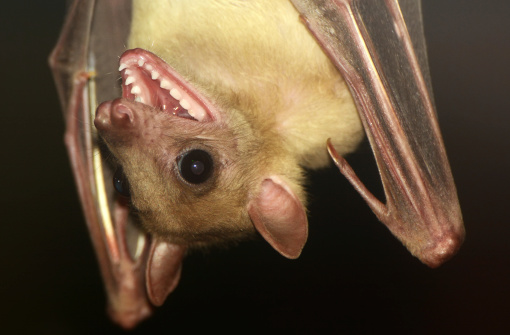 A young fruit bat. (Getty Images)
Jacksonville State University is going batty for bats!
In conjunction with the U.S. Forest Service, the Southeastern Bat Diversity Network (SBDN), the U.S. Fish and Wildlife Service and the Alabama Department of Conservation and Natural Resources, JSU is excited to host part of the annual SBDN Bat Blitz event.
The location of the Bat Blitz varies from year to year. This year it will be hosted at the Talladega National Forest, but a one-day event will take place at JSU.
Bring the family out to JSU's Theron Montgomery Building Auditorium on Sunday, July 24 from 2:30-5:00 p.m. for a fun afternoon filled with activities about everyone's favorite flying mammal: the bat! Guests will get to meet regional biologists, enjoy live bat demonstrations, take pictures with Smokey the Bear, win door prizes and listen to bat conservation talks. This event will kick-off the study of bats in the Talladega National Forest.
"We hope to promote bat appreciation and awareness through Sunday's public educational event and then to obtain data and further the research about bat range, ecology and habitat use in the Talladega National Forest, Little River Canyon and surrounding areas," said Ryan Shurette, a JSU alumnus and the wildlife, fish and rare plants program manager for Alabama's national forests. Shurette and other conservationists will begin capturing bats in the area in an effort to better understand where the bats are living and what could be contributing to their population decline. The bats will be studied and tagged before being re-released into their environment.
There are currently 77 endangered bat species worldwide and eight endangered species in North America, according to Bat Conservation International. Two of these species, the Gray bat and the Indiana bat, make their homes in Alabama.
Bat populations suffer from habitat destruction and vandalism, pesticide pollution and human disturbance during hibernation. Once awakened, bats begin to metabolize their stored fat. If they are disturbed before spring, they often cannot find enough food and die from starvation or exposure.
The Bat Blitz program at JSU is free and open to the public and provides an exciting and educational for people of all ages.
For more information on the Bat Blitz, contact the Shoal Creek Ranger District at (256) 463-2272. Or for more information on conservation and education opportunities, visit the USDA Forest Service - Alabama, Outdoor Alabama - the Alabama Department of Conservation and Natural Resources website, the U.S. Fish & Wildlife Service Alabama Ecological Services Field Office, or the Southern Bat Diversity Network.