TV Services Brings Home Top Honors
06/01/2016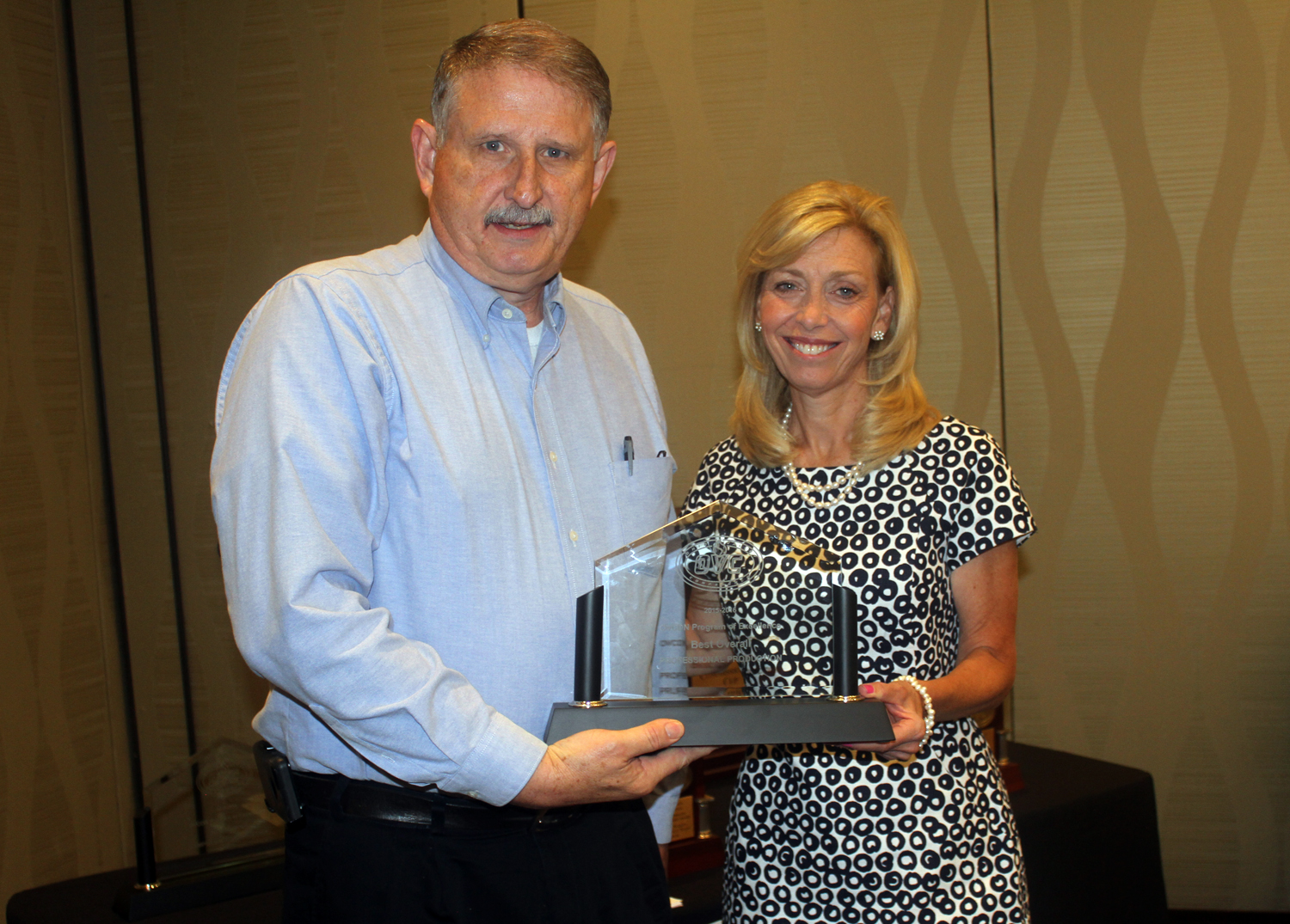 Mike Hathcock, director of TV Services, was presented the OVC Program of Excellence Award on June 3 by OVC Commissioner Beth Debauche.
JSU Television Services has been honored with three awards for excellence in film production: two Telly Awards and an Ohio Valley Conference Program of Excellence Award.
Founded in 1979, the Telly Awards are the premier honor for outstanding local, regional and cable TV commercials and programs, video and film productions, and online commercials, video and films. Winners represent the best work of the most respected advertising agencies, production companies, television stations, cable operators and corporate video departments in the world.
A prestigious judging panel of over 500 industry professionals judged more than 13,000 entries from all 50 states and numerous countries.  JSU was recognized for its production of the Southeast Missouri football game and the "Gospel Music Southern Style" program.
"The Telly Awards has a mission to honor the very best in film and video," said Linda Day, executive director of the Telly Awards. "Jacksonville State University's Television Services accomplishment illustrates their creativity, skill and dedication to their craft and serves as a testament to great video production."
Television Services has now won a total of eight Telly Awards. Under the leadership of director Mike Hathcock, the department produces approximately 60 JSU sporting events each year that are aired live on WEAC-TV and the Ohio Valley Conference Digital Network. "Gospel Music Southern Style" is a weekly show hosted by Hathcock and aired across Alabama and Georgia.  
For the second year in a row, JSU TV Services has been recognized for its production and broadcast quality on the Ohio Valley Digital Network. Launched in 2012, the OVC Digital Network is the exclusive home for live web streamed athletic events and ancillary programming at OVC schools. The productions are available live, free of charge, in a high-definition format on any computer, smart phone or tablet. The events are also archived and can be watched anytime online.
In 2015, the OVC launched an awards program to recognize the best programming on the OVC Network. JSU was honored with an Overall Award of Excellence in Professional Production as part of the inaugural awards program in 2015 and just received word that the department is bringing home the same honor again in 2016. 
Learn more about TV Services here.