Patriotic Postman Delivers Mail and History Lessons to JSU
06/12/2016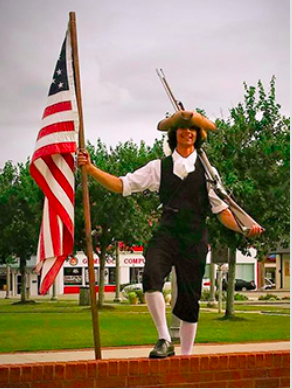 Peter Leavitt enjoys honoring patriotic holidays, including Flag Day.
by Katie Cline
Students and faculty may recognize Peter Leavitt as one of the friendly workers at Jacksonville State University's mail center, but even if you're not familiar with the campus, there's one other place you may have seen him: standing on the Jacksonville Square dressed in Revolutionary War garb and proudly waving the American flag. It is a hobby that started his senior year of high school after a school project on the Second Amendment sparked his interest in American history.
"The first time I went out in costume, I was like, 'Ahh, I don't know if I like this,' but it's a conversation starter," Leavitt chuckled. 
Leavitt dresses up for patriotic holidays like Flag Day, Independence Day and Veterans Day. He said he uses his time in costume to share with people the importance of preserving the country the Founding Fathers established.
"Common sense is becoming uncommon," Leavitt said. "Good is becoming bad; bad is becoming good. It's our duty as Americans to know the Constitution, because one definition of democracy is 'rule by the ruled.' It's up to us to know how it's supposed to be run. When we shy away from the Constitution and shy away from knowing our government, it can very easily become corrupted, because we're not holding our government accountable."
In November 2015, Leavitt had the honor of reading the Declaration of Independence at a 240th birthday celebration for the United States Marine Corps held in Gadsden, Ala.
"It brought tears to my eyes," said Leavitt. "When I got done reading, all these men and women jumped up from their seats and started clapping, because this is what they're fighting for."
Leavitt is not part of an organized group of historical re-enactors. He is merely a citizen with a passion for history and his country's roots. He dresses up on his own time to remind people that the freedoms they enjoy today were not easily won.
"We need to keep what the Founding Fathers established," Leavitt said. "They didn't sign their names on the Declaration of Independence for nothing. They signed it knowing that they could be caught and killed by the British. Freedom is something that, once lost, is hard to regain," 
Leavitt is a Jacksonville native and lives in the Pleasant Valley area with his parents and two siblings: his younger sister, Lydia, and his older brother, Michael, a JSU student. All three children have been homeschooled together their entire lives.
When he's not in costume, Leavitt enjoys practicing karate and woodworking with his father, a hobby he has had since he was a child. The two have made everything from small wooden gift boxes to large-scale projects like catapults. His future goals, however, lie in history and public speaking.
"I want to go nationwide and go to different events, and I want to educate people of all ages – not just children – about our Constitution and why it should be important to us," he said.
While Flag Day is June 14, Leavitt already recognized the holiday on the Jacksonville Square on Saturday, June 11. You can see him again on the morning of Saturday, July 2, in observance of Independence Day. He can also be seen reading the Declaration of Independence at the Jax City Fest and fireworks show in the Jacksonville High School stadium on July 2.