JSU College of Nursing Receives $38K Pediatric Grant
06/09/2016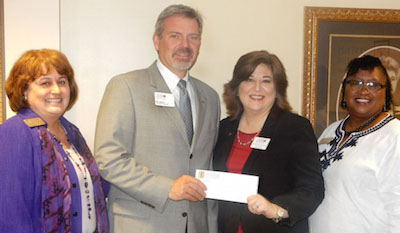 The JSU College of Nursing has been awarded a $38K grant by the Stringfellow Health Fund of the Community Foundation of Northeast Alabama. The funds will be used to purchase a pediatric simulator for the university's new Simulation Center. 
"Due to the shortage of hospital sites available for pediatric rotations, students need exposure to a high fidelity pediatric simulator to gain experience and build confidence for pediatric related situations," said Christie Shelton, dean of the college.
According to the U.S. Census Bureau, individuals under the age of 18 make up 22.8 percent of Calhoun County's population and 23.8 percent of Alabama's. The College of Nursing is incorporating the use of pediatric simulation within its Bachelor of Science in Nursing curriculum to enhance the critical thinking and psychomotor skills needed to care for children.
"Our goal is to prepare our students to provide exemplary nursing care to all individuals and families in our communities," said Betsy Gulledge, associate dean. "This includes children, who often represent some of our most vulnerable population groups." 
In January, the college opened its state-of-the-art Simulation Center in Brookstone Medical Center in Jacksonville. The 3,600-square-foot mock medical clinic is designed to give JSU nursing students the opportunity to practice procedures in a controlled environment. The new pediatric simulator joins a lab of six computerized, anatomically correct Human Patient Simulators equipped with a number of features that enable them to simulate illness and injury and respond to care: from seizures and pneumonia to childbirth and trauma.
With two bachelor's and three master's degree options, the JSU College of Nursing delivers evidence based teaching and learning programs to develop quality nurses prepared to engage within the global health care environment with an emphasis on practice, service and scholarship. For more information, please click here. 
Photo: JSU's Bill Nash and Dr. Betsy Gulledge (both center) accepting the grant from the Community Foundation of Northeast Alabama (courtesy Community Foundation of Northeast Alabama).