JSU Approved to Offer Doctorate in Nursing
06/10/2016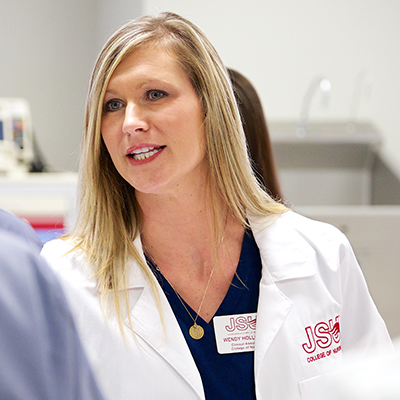 JSU's new Doctor of Nursing Practice (DNP) program will begin accepting applications in January 2017. (Steve Latham/JSU)
The Alabama Commission on Higher Education cleared the way today for Jacksonville State University to offer its second doctoral degree, the Doctor of Nursing Practice (DNP).
This degree option will allow students to seamlessly progress from the Bachelor of Science in Nursing (BSN) degree to the DNP. Students may obtain the DNP through several different pathways: the Family Nurse Practitioner, Adult Gerontological Acute Care Nurse Practitioner, and the post-Master's degree option.
"For years, students, alumni and other community partners have requested that JSU consider offering a nurse practitioner option," explained Christie Shelton, dean of the College of Nursing. "Given that the preparation of nurse practitioners is moving to the doctoral level, the administration at JSU decided to set the BSN-DNP as the goal."
The national need for nurse practitioners is expected to greatly increase over the next decade. In 2010, a landmark report published by the Health and Medicine Division of the National Academies of Sciences called for the medical community to double the number of nurse practitioners by 2020.
"The ACHE approval of JSU's new DNP program is a prime example of our commitment to serving the critical needs of our region and represents continued progress in enhancing our academic stature statewide and nationally," said JSU President John M. Beehler.
The DNP becomes the second doctoral program offered by Jacksonville State. In 2010, the university was approved to offer its first doctorate degree, the Doctor of Science in emergency management. JSU conferred its first doctoral degree in emergency management to Michael Kenneth Ryan of Tampa, Fla. in April.
The JSU College of Nursing has been successfully preparing nurses at the master's program level for 16 years with more than 212 MSN graduates. With the addition of the doctoral program, JSU will be able to offer these graduates the highest level of preparation to function as advanced nurse leaders, clinicians and educators.  
The college will begin accepting applications for the doctoral program in January 2017, and the official launch is planned for August 2017.