First Gamecock in the NBA Returns for Degree
06/01/2016
Walker Russell, the first Gamecock to play for the NBA, completes degree a decade after going pro.
Walker Russell added to an already impressive resume on May 31, when he completed his course work and earned his degree from Jacksonville State University.

The former Gamecock standout and the only JSU player to play in the NBA finished his degree in sociology with a physical education minor 10 years after departing campus to pursue a career in professional basketball. With quite the resume on the court, Russell described receiving his diploma as one of the "proudest moments" of his life.

"It's the ultimate feeling," Russell said after being presented his degree in the President's Office. "To me, this is a better feeling than making it to the NBA or anywhere that I've played professionally. I've always wanted to do this, and I have kids now, so it's a dream for me to be able to do this and be a role model for them. My mother was pushing me to do it, so for me, this is one of the proudest moments of my life."

Russell was an All-Ohio Valley Conference performer for the Gamecocks and remains one of the best to put on the JSU uniform, especially during the Gamecocks' Division I era. Still the school's Division I assists leader with 590 and fourth on the Division I scoring list with 1,182 points from 2003-06, Russell said his return to "The Friendliest Campus in the South" brought back great memories.

Russell went on from JSU to start his professional career, one that has seen him play in eight foreign countries while still pursuing his dream of playing in the NBA. The son of former NBA player and coach Walker Russell, Sr., he was a three-time NBDL All-Star before signing to play for the Detroit Pistons on December 12, 2011, the same team his father debuted with in 1982.

"We are extremely proud of Walker for returning to campus to finish his degree," JSU President Dr. John M. Beehler said. "His commitment to completing his education is just another example of what a great role model he is to all of our student-athletes at Jacksonville State."

JSU Athletics Director Gregi Seitz, who served as JSU Basketball's sports information director during Russell's first two seasons at JSU, was equally excited about Russell's latest achievement in the classroom.

"We are extremely excited and proud of Walker for making the commitment to completing his college education," Seitz said. "He was a special player on the floor for us, but for him to make it a priority to come back to campus and finish his degree says a great deal about him. It was great to have him back on campus and we all want to congratulate Walker on getting his degree."
When the opportunity to play professionally presented itself to Russell after is final season at JSU in 2005-06, the Pontiac, Mich., native was just a few hours away from completing his work towards receiving his bachelor's degree. The opportunity to finish his work online or elsewhere was there, but he felt a commitment to JSU to return to campus and complete his course work.

"JSU was family," Russell said. "Everyone treated me like family while I was here, so I thought that was very important for me to finish here and finish where I started, at JSU. It wouldn't have been fair for me to have credits anywhere other than JSU. They brought me in and treated me like family for three years, so I have the utmost respect for JSU."

Russell transferred to JSU after one season at Chipola Junior College in Florida and made an immediate impact. He set the school record for career free throw percentage with an .842 clip, while earning second team All-OVC honors as a junior and first team honors as a senior. He was JSU's Division I career scoring leader until 2011, when Nick Murphy passed him on that list.

He holds the two best single-season assists marks in JSU history with 211 in 2004-05 and 197 in 2005-06, while he has the top three assists per game averages in the school's history. He is still third in school history in steals and is in the top 10 in JSU's Division I history in 3-point percentage.

With all of the accolades Russell received for his time at JSU, he will always be known as the first Gamecock to play in the NBA, and that's a distinction the guard doesn't take lightly.

"It's an honor," he added. "It shows that coming to JSU or any mid-major Division I school, anyone can make it. It's especially special coming from Jacksonville. I know a lot of people view JSU as a football school, but I would love to see a turnaround in basketball and for players to know that you can come here and make it, with me being a prime example."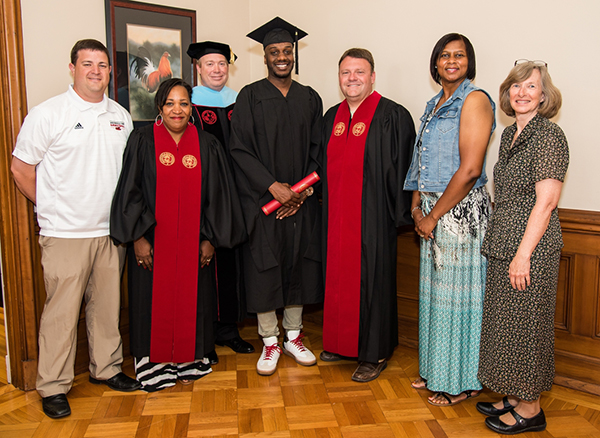 Above: Walker Russell returned to campus on May 31, 2016 for his degree, which was presented to him in the President's Office by Dr. Don Killingsworth, special assistant to the president. From left: Josh Underwood, sports information director; Cherise Peters, vice president for enrollment management; Don Killingsworth; Walker Russell; Greg Bonds, senior associate athletic director; Tracy Broom, assistant athletic director for academics; and Karen Gregg, degree certification. Photo by Matt Reynolds, University Photographer.